Electric Auto Rickshaw and Petrol Auto Operating Cost in 2023
Anusha Sathish (Author)
Published Date :

Jan 16, 2020 20:50 IST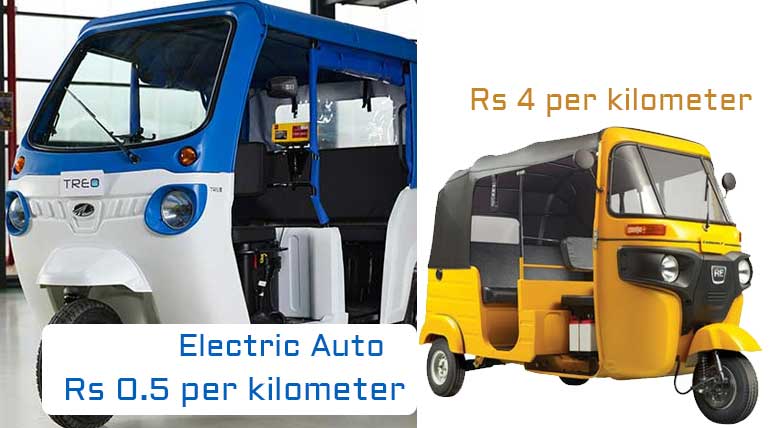 Electric three-wheeler gearing up for 2023 challenge: Smaller players of the electric three-wheeler segment are the ones whose scales up in this industry-wide slowdown. India has become a home to 1.5 million battery-operated three-wheelers. The e-rickshaw is expected to be selling 100000 units per month with more of unorganized players in the segment.
After BS-VI norms, the country is more keen towards implementing CAFE norms following which all Internal Combustion Engine three-wheeler to be phased out from 2023 an aspiring move with a lot of concerns piled up. But to make it realistic, the government is working towards the same.
According to the Society of Manufacturers of Electric Vehicles (SMEV) - the apex body for electric vehicles, the sales of electric three-wheeler grew by 21% in 2018-2019 to 6,30,000 compared to the previous year 2017-2018 which recorded 5,20,000 numbers.
Range related issues getting mitigated, affordability, and better value proposition in the shared mobility space are the key areas on which the new players in three-wheeler manufacturing sail against the established ones like Mahindra and Piaggio.
"Even with an expensive battery pack, the total cost of ownership of electric three-wheelers is less compared to IC engines," said Amitabh Saran, CEO, Altigreen Propulsion Labs. The daily rental for an e-rickshaw is Rs 300 charged by fleet operators. It generates a micro-entrepreneurship opportunity as there is a possibility to earn Rs 800-Rs 1000.
The maintenance has reduced by 80%, which is important for an auto driver. A petrol-powered auto rickshaw costs Rs 4 per kilometer, whereas the e-powered rickshaw cost Rs 0.5 per kilometer. The range gets defeated where a petrol-powered auto-rickshaw can go up to 190km, whereas the e-rickshaw covers a range of 130km.
The lithium-ion battery can satiate this gap, but it is too expensive. Nevertheless, the demand is picking up slowly and is expected to replace lead-acid batteries soon. Starting from Rs 40,000 to Rs 1 lakh e-rickshaws are becoming popular pan-India.
Not only in the passenger segment, even in the cargo segment, but the electric three-wheeler would also be popular soon. With L5 electrics, the e-vehicles are expected to hit the commercial space too. With all these invigorated steps, the aspiration pf the government to phase out ICE three-wheeler from 2023 will become realistic.
All that the expectation from the government is to reduce the import duty of the batteries and other electric components to boost the demand.