Actor Suriya Broke Out in Tears at Agaram Foundation Function
Vignesh Subbaian (Author)
Published Date :

Jan 06, 2020 10:13 IST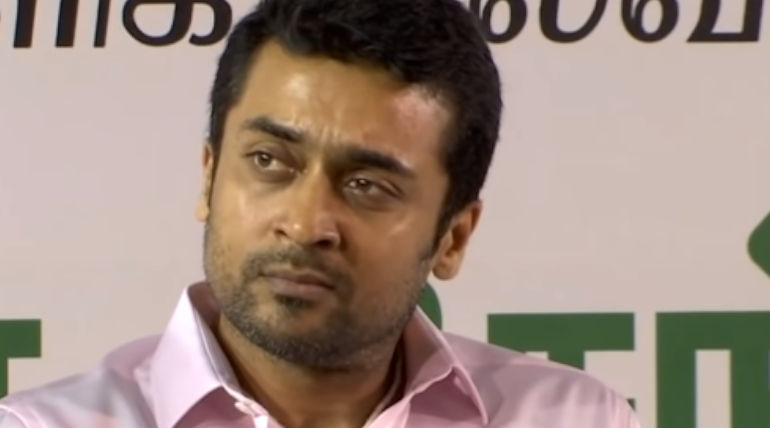 Why Suriya cried in a function? Humanity was at its best displayed yesterday in the Agaram Foundation function in Chennai. Actor Suriya with uncontrollable tears consoled a young girl who, with the help of Agaram, is now working as an English trainer in an institute.
Suriya got emotional when she said that her mother unable to come to the function, is hearing her speech vide the mobile phone. The video is now viral in the social media to not only show Suriya crying but as a motivation for poor village students to pursue education irrespective of all hardships.
Agaram Foundation to release two Tamil books, Difference Is Beautiful, and World Is Born For Us, conducted a function in Chennai. Suriya, Agaram's founder, Education Minister K. A. Sengottaiyan, Bussiness man of Tamil Nadu Nagaraj of Ramaraj Mills, and others attended the function. Many students who studied with the help of Agaram spoke in the function.
Gayatri, a young girl of 21 years, spoke in the function that not only made Suriya emotional but all those who came for the function. Now, on YouTube, it has reached the world for everyone to see. The sad occurrences narrated by the confident young girl could make anyone think all their worries as nothing.
One after another, the way she says those problems without much ado will shake anyone's heart. But in the end, when she said that her mother was unable to come to see her speaking, she broke down. That was unbearable to Suriya, who consoled her. Her mother is working as a housemaid some 19 km away from her home for daily wages of Rs. 200.
The young and courageous Gayathri spoke about many of her challenges and how she overcame it including
If I can speak in this function, it is only due to the help of the Agaram Foundation.
I was born in a small village Neivasal in Thanjavur district.
I am the 2017 batch student of the Agaram Foundation.
My father is a daily labor in Kerala, and my mother is a farmworker with daily wages of Rs. 150.
After completing my higher secondary exams in a government school, I told my mother I would go to work.
The reason was due to the damages in the living hut and for her brother to continue his studies in the ninth standard.
And also that her father is now affected by cancer.
But her mother wanted her to become a teacher even if there is a need to beg for it.
With the help of a sister in the school, I wrote a letter to Agaram Foundation.
My father came with me to Chennai to get support from Agaram.
With Agaram, I help I joined Nanda College for studying B A English along with food and boarding.
Father died due to cancer, and the mother had to be operated to remove the tumor in her uterus.
Irrespective of all these hardships, continued study to complete it.
Her mother who got operated and removed her uterus tumor but broke her hand later.
There were many challenges during the placement process of looking like a village girl, local accent, improper dress sense, lack of English deficiency, money for enrolment and many others. But with Agaram training got the confidence to get a job.
Now working as an English trainer in Ajantha Education Institute in Kerala
Gayathri said the famous quote, "To win, you must begin," and also, her beginning started with the help of the Agaram Foundation. It is a crystal clear message to everyone that irrespective of any challenges, there is light at the end of the tunnel to have a better life.