Actress Aishwarya Selling Soap Price? Sound Saroja Emotional Interview
Sophia Loren (Author)
Published Date :

Jun 17, 2022 18:16 IST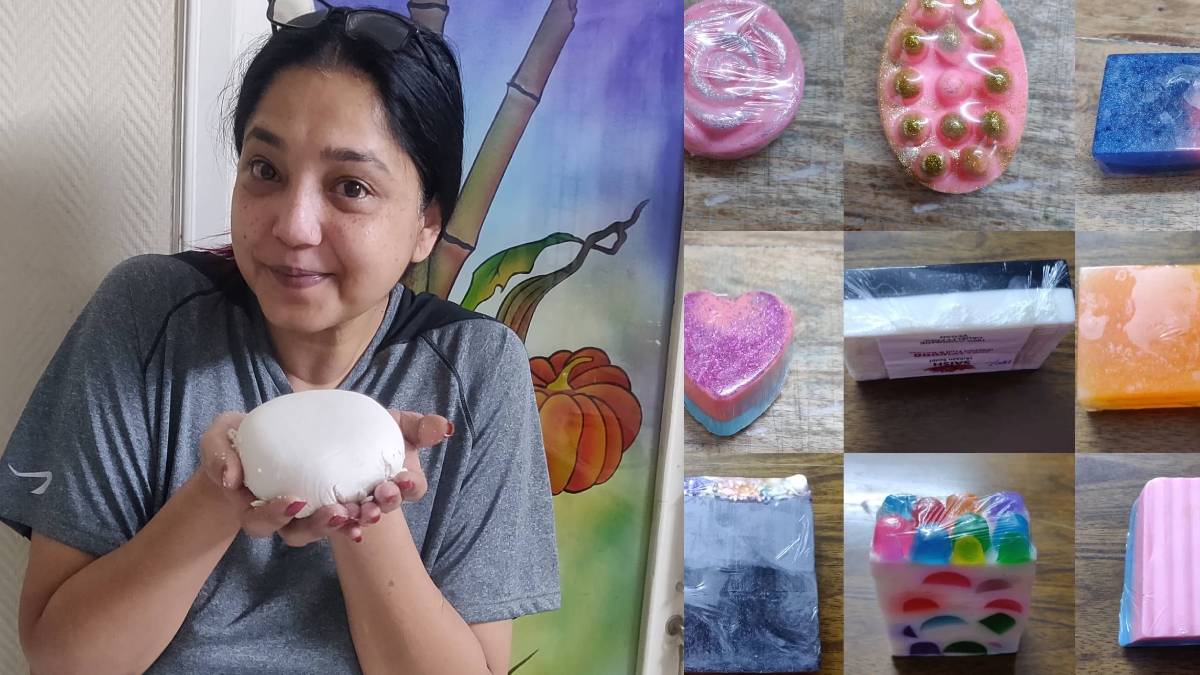 Aishwarya Bhaskaran actress is in talks after her appearance on a Youtube Channel. Veteran actress Lakshmi's daughter Aishwarya Bhaskaran is now selling soap to live her daily life. It is to note that she lives alone with her kittens. Her interview turned out to be inspirational to many viewers.
Veteran actress Lakshmi has acted with mega stars like MGR, Sivaji, Jai Shankar, Rajini, Kamal, Sivakumar and Sarathkumar. Her daughter, actress Aishwarya Bhaskaran made her debut in Tamil cinema with the film 'Nyayangal Jayikkattum'. Later she acted as the lead and supported characters in many leading hero's movies. She acted in films like Mill Worker, Tailor and Rasukutty. After that, she played the lead role in Rajinikanth's Yajaman film, and this film bought her fame.
She started acting not only in Tamil but also in Kannada and Telugu. After that, her market declined, and she withdrew from cinema. She made her entry again as a supporting actress in films like Kumaran, Aaru and Sabari. Her character 'Sound Saroja' was widely talked about in Suriya's Aaru film. Later she acted in serials aired on Sun TV and Jaya TV. In between this, she divorced her husband Tanveer Ahmed within two years of her married life, considering her daughter's life.
In this case, Aishwarya has recently given an interview on a popular YouTube channel. In it, she shares about his situation and many things that she spends her life selling soap because she did not get the opportunity in the cinema field.
In the interview, Aishwarya shared, "I am suffering from not having the opportunity to act, and I am currently going door to door selling soap. Even now, there is no debt, no other problem. I do not regret the work I do now. I am proud. Tell me if there is any job. I will definitely do that and get paid for it. No job is a shame. That is the pride of having to work and eat. And it was the serials that made me live more than the cinema," she said.
Aishwarya spoke not only about her personal life but also gave her opinion on virginity and alcohol. She also shared what she hated the most in movie shoots and how she was treated. It was shocking to know that she had no friends in the Cinema industry. It is to note that she will have only one meal in a day, and it is because of Adhiyogi's stretches and yoga. She also mentioned there is no television or furniture in her house.
Aishwarya has a daughter, and she is married and runs her life. Aishwarya is living alone with her three cats. When questioned about her mother, actress Lakshmi, she didn't want to share that. Her bold, straightforward talk has gathered the attention of the public. Moreover, she became an inspirational woman to divorcees and many other women.
The interview is going viral on social media. Is this the situation for the daughter of veteran actress Lakshmi? As this matter has become a talking point in the cinema circle. Many are requesting her gpay number, but she is not ready to share; rather, she wants to earn a move with her effort and work.