Ajith Fans Seed Ball Distribution in Srinivasa theatre and Movie feedback
Vijayan Sankar (Author)
Published Date :

Aug 09, 2019 10:27 IST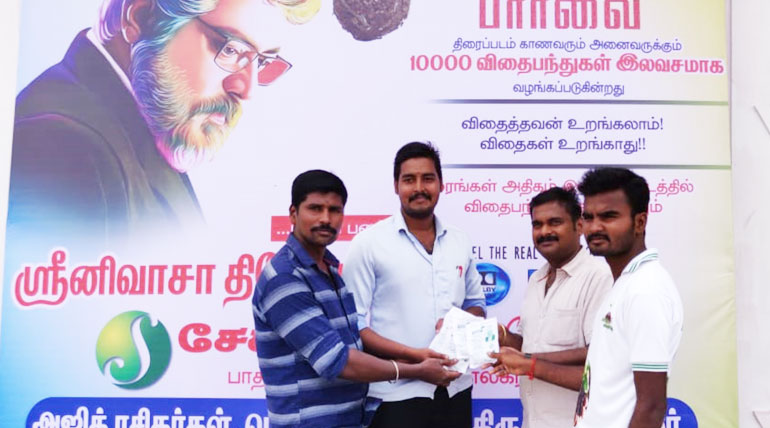 A novel way of celebrating Ajith's new release of NKP by Villupuram fans
10,000 Seed balls gifted to viewers of Ajith's Ner Kondra Paarvai in Tirukovilur, Villupuram. It was given in Srinivasa theatre by Vidhai Virutcham Trust and Vanavil Seed ball manufacturing company. This novel idea of fans comes at a time when the country is facing severe drought in many places and floods in others. Thala's Ner Kondra Paarvai released as per the expectations of his fans and public alike. To celebrate the occasion, Thala fans are now resorting to environment-saving ideas instead of pouring milk on cutouts.
How is Ner Kondra Paarvai movie?
It is the question asked by many in Tamil Nadu and wherever Tamil people live in the world. Ner Kondra Paarvai is a court drama of unravelling the truth to free three women framed as criminals. Being a remake of Pink, the storyline everyone knows, but how did Ajith perform in the movie is the big question. During the first half, Ajith gives room for all the other artistes like Shraddha Sainath, Abirami, Andrea, and others to perform their roles. The story is weaved well in the first half for Ajit to open it fabulously in the second half. The character of Ajith is a lawyer who is affected by depression and anxiety due to personal losses. He wants to save the three girls at any cost and does his best in court and a fight sequence with the goons.
What are the positives of Ner Kondra Paarvai?
Ajith, as usual, does his best
H.Vinoth has done a fantastic job of not letting the main storyline of Pink for commercial aspects
The concept of consent of women to men in this society is exposed crystal clear by Vinoth's writing and direction
Shraddha performs wonderfully for being the main victim of the three girls
Yuvan has composed the songs fantastically and also the BMG is outstanding.
What are the negatives of Ner Kondra Paarvai?
To satisfy the Ajith fans, Vinoth has brought in a fight scene and also some unnecessary dialogues.
Vinoth also wrongly portrayed Ajith being acting unusually for a depressed man
Except for Shraddha, the other girls did not perform well.
Altogether bringing in the safety of the women in this society with Ajith doing well in the court scenes to free them will be welcomed well by Tamil people and his fans.