Amazon Prime Video streams in Google Chromecast and YouTube on Fire TV
Nisha Gowri (Author)
Published Date :

Jul 10, 2019 18:25 IST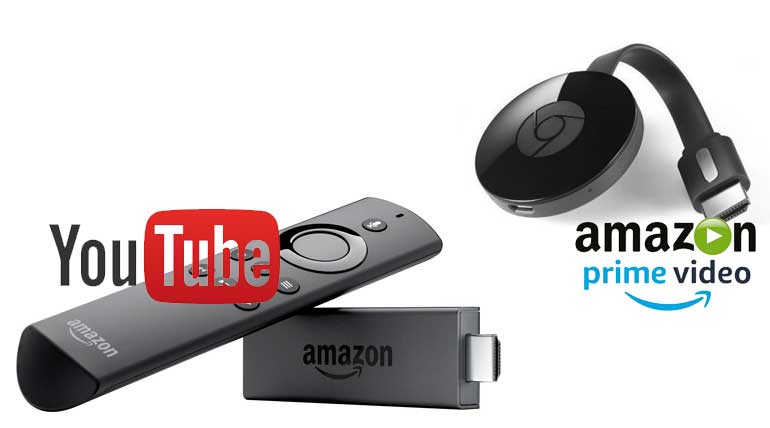 Both the American tech giants Amazon and Google are now allowing their video apps to stream on each other platforms. This truce between them has happened after two years.
Back to the normal, YouTube will be seen on fire TV. In 2017 Google blocked it's popular video app YouTube on Fire TV.
What is new?
New categories like YouTube kids and YouTube TV will be on Amazon devices very soon. Amazon Prime video can be seen streaming in Google Chromecast, Chromecast Ultra dongles and Android TV sets around the world.
This paves the way for us to download the Amazon Prime video app directly from the Google Play Store. To receive the latest update, phones or tablets will need versions higher than Android 5.0 for higher than IOS 10.1 for streaming Prime video to Chromecast.
Immediate past of the truce
During the hassle between Amazon and Google, the Chromecast devices were not available on Amazon eCommerce website.
This day both the companies were trying to reach an agreement between each other to give access to consumers to each others product and services.
However, YouTube streaming services will not be available for echo show units. But there are chances for the possibility soon.
Reasons for the hostility
According to the sources, Google felt disappointed with Amazon. Its retailer was not selling a number of its products, which includes Chromecast and Google Home devices.
As the two tech giants were not compromised, Google removed the official YouTube app from Fire TV devices at the start of 2018.
This happened after Google removed YouTube from Amazon Echo show devices, citing the reason to be a Broken User experience.