Bigg Boss 3 Happy Ending Week-Vanitha Vijayakumar Breaks the Calm in the House
Sivaranjani Soundararaj (Author)
Published Date :

Oct 02, 2019 12:47 IST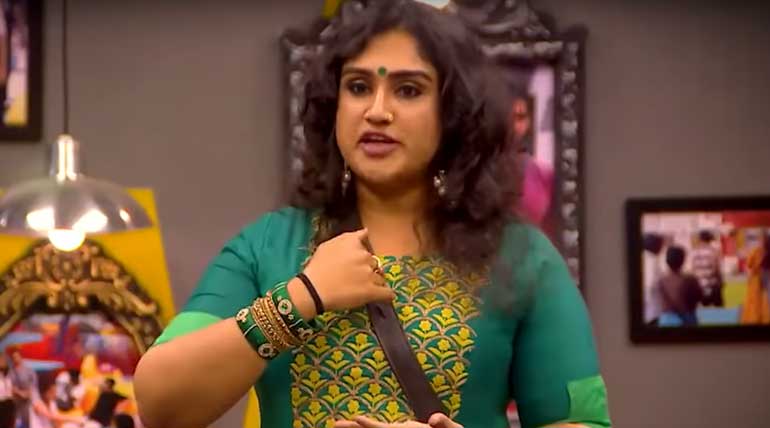 Happy Ending Celebrations in the House: Bigg boss started the extension of the show after 100 days to one more week but not the same as usual. The finale is something with a never-ending bond of memories to reminisce; Bigg boss never fails to create such beautiful incidents inside the house. Bigg boss celebrations lit this week with a power-packed crew of entertainment to the contestants.
The four finalists Mugen, Sandy, Lossliya and Sherin along with old evicted contestants thoroughly enjoyed the Super Singer band's performance. Super singer fame Soundarya surprises Mugen Rao by singing his song "Neethan Neethan" composed inside the house. The day is mesmerizing to eyes for all the Bigg boss viewers.
A Tribute to Bigg Boss Season 3: Bigg boss pays in house respect to the evicted contestants of the season in the final week. Fathima Babu, Mohan Vaithya, Sakshi, Reshma, Meera and Vanitha is in the Bigg boss house reminiscing their old days in the last week.
All contestants inside the Bigg boss house with their usual character. Contestants behaviours like Reshma's Care, Mohan Vaithya's indescribable mixed emotions, Fathima Babu's Mature act, Meera's prompting surges inside the BB 3.
Controversy Queen Vanitha is Back in BB 3: Both Vanitha and controversy are directly proportional to each other; We cannot separate them anonymously. Though Tharshan's eviction is a question mark till date all over TamilNadu and Sri Lanka; But Vanitha is clear about his eviction reason.
As all of us know, Tharshan-Vanitha controversy in the early days of BB 3 for Tharahan raising his voice towards Vanitha. The adamancy of Vanitha's speech is not new inside the BB house; She blames Sherin for Tharshan's eviction with a robust portrayal.
Elimination of Tharshan is unacceptable both inside and outside the house. The four finalists are slowly recovering after Tharshan's loss in BB and now adding fuel to the fire Vanitha is breaking the calmness inside during the final week.
Vanitha-Sherin misunderstanding broke Sherin during those days for Vanitha's unwanted comment about Tharshan-Sherin relationship. But now Vanitha is breaking the ice again with Sherin about being the reason for Tharshan's Eviction.
However, Bigg boss never wants the feel of extremities in anger, calm, happy, sad moments inside the house for its reality in the show. Let us pray for the calmness inside BB tonight.