Bigg Boss 3 Tamil: Day 16 Promo Highlights in Bigg Boss House
Vijayan Sankar (Author)
Published Date :

Jul 09, 2019 19:02 IST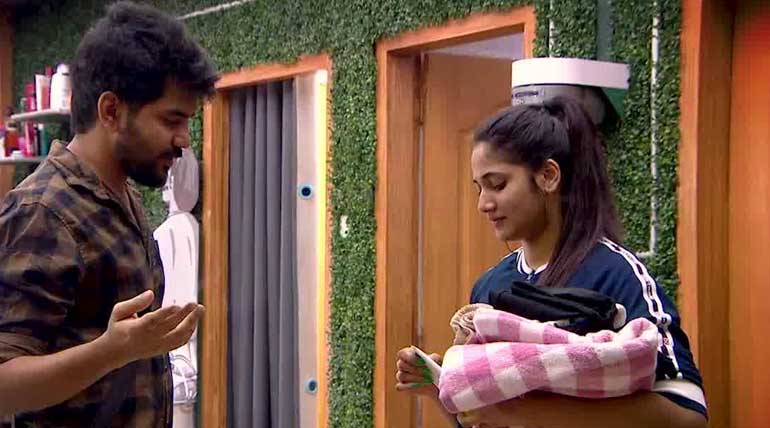 Bigg Boss Tamil House filled with Love and hatred between Kavin, Losliya and Sakshi may lighten the 16th day of Big Boss 3
In the three promos for the 16th day released, there are expectations of love and hatred. Kavin is seen openly flirting with Losliya, and the anger of Sakshi is evident from her reactions. The second promo is about a horror task assigned by the big boss. Vanitha rightly plays a murderer along with Mugen and Sakshi is also right in her makeup as a ghost. The third promo shows the hatred of Sakshi towards Losliya.
Bigg Boss 3 Tamil House Promo 1
The first promo depicts the morning open flirting of Kavin with Losliya. She clearly says that he should not see her for some time. To that, Kavin says she can say that he should continuously see her all the time or even see without blinking the eyes but not to say not to see her. It may part of a task also, but the scene of Sakshi watching them with hatred could be the real flirting of Kavin towards Losliya.
Bigg Boss 3 Tamil House Promo 2
The second promo is about a task assigned to the contestants. Here the dacoit and murderer are Mugen and Vanitha. She is given a task of making Shakshi remove her makeup. Vanitha, who is smart enough in this kind of functions, seems to have completed it successfully.
Bigg Boss 3 Tamil House Promo 3
The third promo is about Kavin asking Losliya whether she wants anything. To that, Losliya replies in the negative. Kavin persists in front of Sakshi, but Losliya sticks to her ground and says no. After that, Sakshi says to Losliya she would not have seen so many sarees at one time. To this, Losliya hurt by the sarcastic tone, and the meaning of the sentence leaves the place.
Altogether the day 16 of BB3 is set to witness some love and hatred scenes. Tasks could lighten up the show. With three hectic days of the first elimination and the fresh round of nomination for removal, maybe today is going to be a not s0 eventful day. But the big boss is always springing in surprises. As per the slogan of the big boss 'Expect the unexpected', the audience may witness some surprises on this 16th day of BB3.