Bigg Boss 3 Tamil Day 26 Unexpected Crying and Consoling
Vijayan Sankar (Author)
Published Date :

Jul 20, 2019 09:29 IST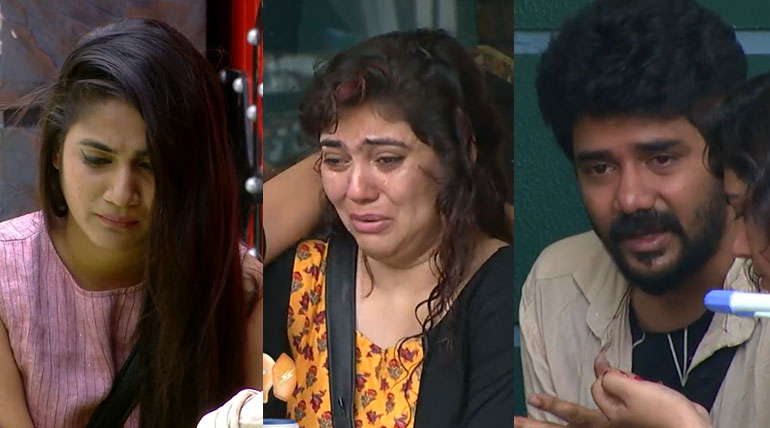 Crying & consoling continues all through day 26 of Bigg Boss 3 Tamil
The 26th day is all about crying among the contestants in the Bigg Boss Tamil 3 house. Kavin has taken the role of crying baby from Vaidya and sobs uncontrollably in the locked restroom.
Sherin cries for nothing. Sakshi seems to cry all night. All the consolation from other contestants is in vain. It is time big boss to interferes and put an end to these crying episodes.
Crying continues late into the night of the 25th day: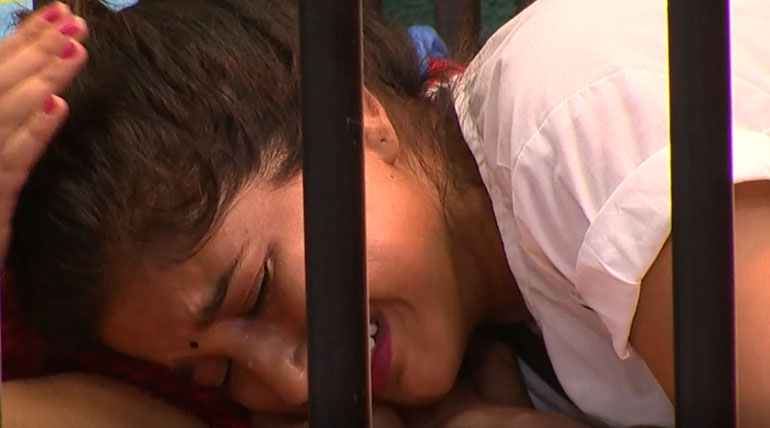 Sakshi Agarwal. Image Vijay Tv Hotstar
Meera was bombarded again by the Sakshi and team during the late-night shots of day 25. Meera more or like looks like an abnormal person. Next Sakshi laughs out of control and starts crying.
Everyone including Losliya consoles her. She asked her to be bold and not to waste energy by convincing anyone. Whatever love you show, it will not be reciprocated.
Sakshi says she is strong, but Kavin makes her tense. Losliya says she wants Sakshi to talk to Kavin wants two of them to be happy.
Late-night talks fail between Sakshi and Kavin & Losliya and Sherin:
The talks continue into the night with Losliya asking sorry to Sherin for putting a hole in her heart-shaped Chappathi. Cheran is doing the role of the consoler with Sakshi and then with Sherin and Losliya.
Losliya, being intrigued by Sherin, saying that she should respect others' experience, went straight and asked her about it.
Sherin maintained that people should learn to respect experience to which Losliya countered but gave up. Sakshi and Kavin start talking about the issue, and Sakshi confirms everything is done with them.
Kavin asks how Sakshi could say that she can't rescue him. The blame game and crying one after another continues to the early hours of the 26th day.
Kavin asks sorry to all contestants on the advice of Cheran and starts crying in the restroom:
No one to dance in the morning on the lawn as the music played. Sakshi and Meer were released from jail. Cheran continues his consoler role of advising Kavin and asks him to conduct a meeting of all contestants and ask sorry. To that, Sandy says, it is not correct. Kavin is utterly confused.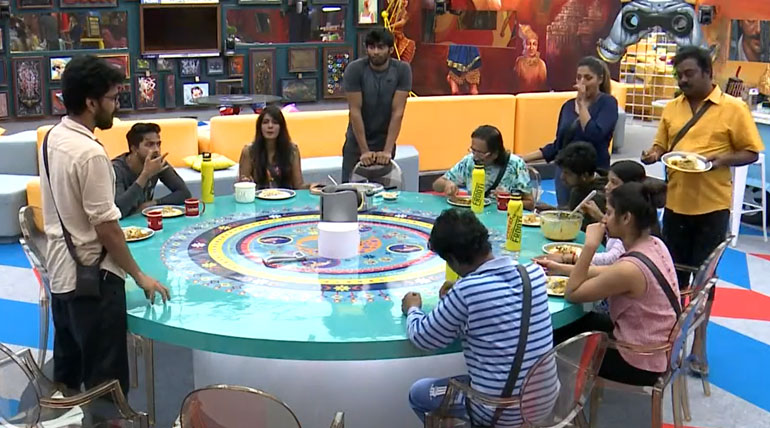 Kavin asking sorry to everyone. Image Credit- Vijay Tv Hotstar
During breakfast, he says sorry to everyone. He said he realizes his mistake. When he comes out, he sees a sobbing Sherin. It was due to the Losliya and experience talk of the previous night.
Then Kavin walks into the restroom and closes the door. Sounds of his uncontrollable sobbing were alarming to the audience. Sherin continues her witch-hunting of Losliya.
She also restricts Shakshi from going to the restroom to console Kavin. After the others calling Kavin outside, he comes out and talks and then starts his next round of talks with Sakshi and Losliya.
Losliya leaves Kavin accusing him of playing with other's feelings: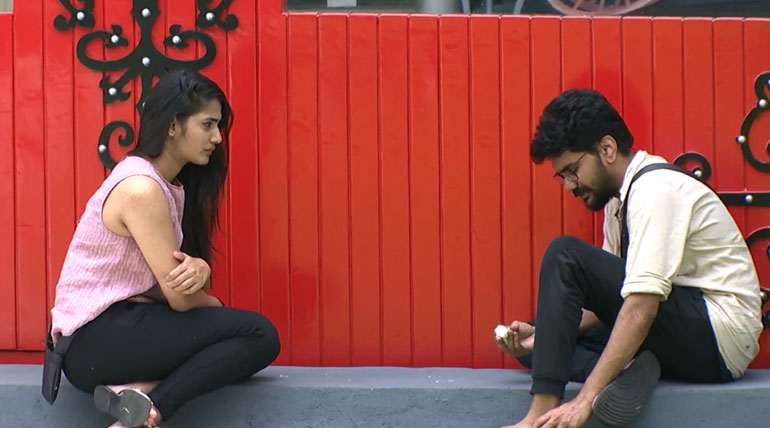 Kavin and Losliya. Image Credit - Vijay Tv Hotstar
Losliya blamed Kavin that he has acted for the show. To that, Kavin accepts, and he will not play anymore and asks sorry. To that, she says she will not take his sorry and asked him to realize his mistake.
He should have not played with Sakshi's emotions and want to be faithful to her. Kavin requests to bigg boss that he is done and wants to leave immediately.
Sakshi and team try to console him till the end of the show of 26th day of bb3. Though the 25thand 26th day was full of crying, it sets the stage for Kamal's action on the 27th day. Also who is going to be the first saved and who may be eliminated can be known from Kamal's acts and speech today.