Bigg Boss 3 Tamil First Elimination Result Based on Votes
Vijayan Sankar (Author)
Published Date :

Jul 07, 2019 11:59 IST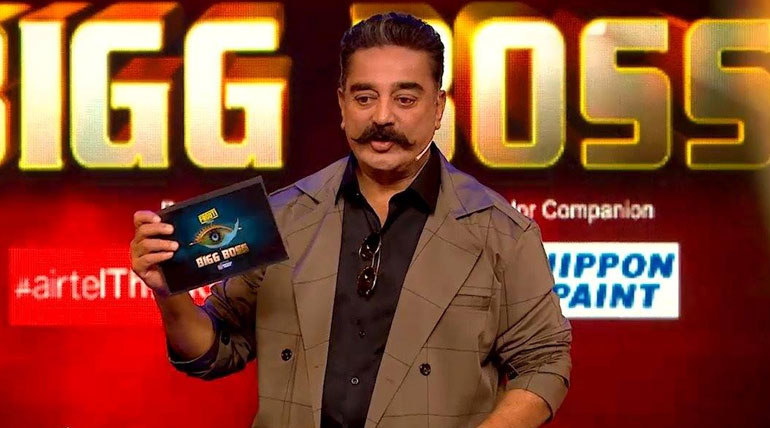 The first Elimination suspense to unfold today night confirms promo 1 of day 14 of Bigg Boss 3
In the first promo for Bigg Boss 3 Tamil, Kamal dressed like a real boss with a long brown coat and black coolers enters to evict one Big Boss 3 contestant. The contestants were seen sitting tense and with the confusion of who is going to be evicted today. For the audience also it is going to be a tense evening for knowing whether their favorite or the right contestant to be eliminated.
BP and Blood sugar levels raising Kamal by Bigg Boss 3:
As per an article in Kumdam Reporter magazine Saturday, July 7th 2019, the blood pressure and sugar levels are increasing for Tamil people by Kamal through Bigg Boss 3 Tamil Elimination. It may be partly true, and it only shows the abundant interest of the Tamil people across the world in watching the BB3. Another apparent indicator of the Tamil people's enthusiasm is seen from the 10 Crore + votes cast by them to save the contestants. All of this only adds the hype to today's 14th episode of Bigg Boss Tamil season 3.where one contestant is going to be evicted out of the Bigg Boss Tamil season 3 house.
What did Kamal say in the Promo 1 of the 14th day of Big Boss 3?
Kamal dressed and talking like a real boss was seen with a cover containing the name of the person to be evicted from the Bigg Boss 3 house. He asks the tense contestants who after a gap of 15 days are out of the bigg boss house. Kamal says that he knows who is going to be evicted and also confirms that the audience who have come to see this episode also knows it. He asks the contestants whether they want to know. With the curious faces of the contestants without answering the promo ends.
For all BB3 fans, today is going to be a big day and the show will be worth every penny for the time of its viewing. Kamal with all of his experience is going to make the first eviction as smooth as possible for everyone concerned. Also, it will instil fear among the other remaining contestants to make the show better and better.