Bigg Boss 3 Tamil: How did Kamal handle the love triangle issue?
Vijayan Sankar (Author)
Published Date :

Jul 21, 2019 11:04 IST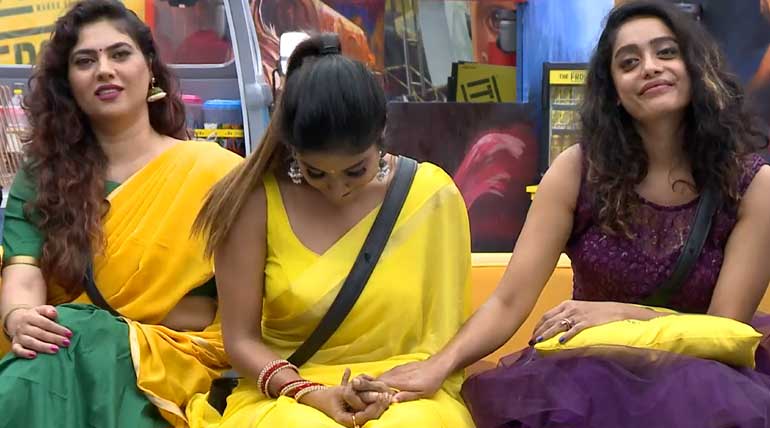 Kamal's handling of love triangle issue - will solve it or flare it up?
The highlight of the 27th day of Bigg Boss 3 Tamil was the diplomatic way of Kamal handling the love triangle issue. But after seeing it, many were confused whether it will solve it or flare it up. It is because Sakshi did not seem to be convinced and expressed it by her crying and saying that she cannot switch on and off her feelings suddenly.
How did Kamal handle the love triangle issue?
Though Kamal brought a scene from his hit movie Micheal Madana Kama Rajan to the defence of Kavin for his actions it did not convince Sakshi or to some extent Losliya also.
Kamal did not go deep into the issue as it could evade the privacy. Though it is correct as many could accept, there are still who think that the issue is left unsolved for the TRP rankings.
Why was Sakshi not convinced even after Kamal's intervention?
Sakshi, the birthday girl yesterday was crying while answering Kamal. She was right in saying that she cannot switch her mood and feelings on and off suddenly. She said what Kavin did have hurt her badly and even his apologies did not heal it. Many expected a Kurumpadam of Kavin's flirting assurances and interests on Sakshi to be shown yesterday. It could have revealed the reasons for her emotions.
Why Losliya also was not fully satisfied with Kamal's advice?
Losliya until Wednesday, was like a free bird dancing and having a happy time in the Bigg Boss 3 Tamil house. It was one of the refreshing moments of the show, and many enjoyed it. She seemed to be not worried about any happenings in the house and always happy.
But after the chocolate, many see her dull face and all the happiness gone. That is why Kamal mentioned to her to be herself. But it has to be seen only today, whether she is doing that to the wishes of millions of the audiences worldwide.
The Bigg Boss 3 Tamil show is now only on the 28th day and has got a long way to go. There are many more exciting happenings to come, and the contestants should come out of the love triangle issue and move on.
Kamal is a seasoned actor, knows it better and did his part on the 27th day. On seeing its repercussions will take necessary steps to keep the glory and spirit of Bigg Boss 3 Tamil in the coming days.