Bigg Boss 3 Tamil Kavin stands for Losliya against Sandy master
Vijayan Sankar (Author)
Published Date :

Sep 19, 2019 11:48 IST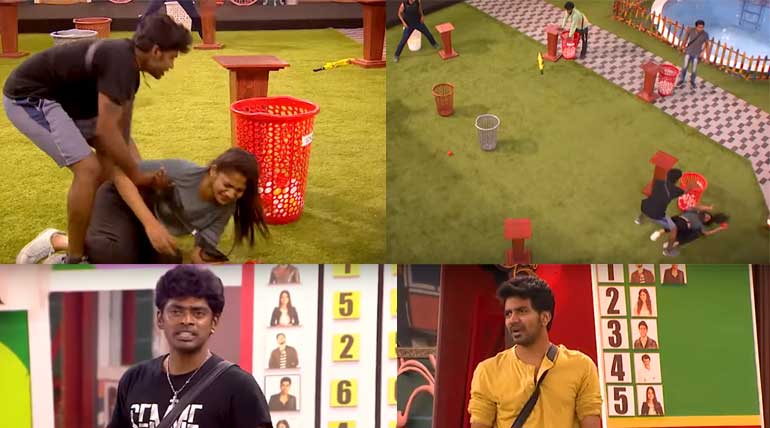 The first promo for 88th day in Bigg Boss 3 Tamil Kavin Stands for Losliya:With only 13 days left for selecting the winner of Bigg Boss 3 Tamil show, it is getting hotter day by day. The 88th day's first promo released now shows another game being forcefully played by the contestants. Sandy is chasing Losliya, and she falls. To that, Kavin asks Sandy to be not so harsh on her. To that, Sandy tells him not to make it an issue. Tharshan joins in the row and makes today's show a not to be missed one to watch.
Kavin continues his affection towards Losliya: There is no rules in love and war. It is an old saying which may be true with Kavin's approach towards Losliya. It is even after being beaten by his friend with millions watching it and Losliya father's disliking it. Kamal also has warned Losliya to be on her own, Cheran advising Kavin, and Losliya's father advising her, all of it is not stopping Kavin to show his affection to Losliya. Is it a mystery or the chemistry of love or for TRP no one knows?
Show-time in big boss 3 Tamil show where friends are becoming foes: The 1st promo of 19th September released just now confirms Kavin's continuing affection of Losliya. It also lays down the platform for friends to turn foes in Bigg Boss 3 Tamil show. With Vanitha out of the show last week, the organizers set the tone for the final days of big boss 3 with as many games as possible. Only the combined winners of the games will be part of the last four contestants to win the Bigg Boss Tamil 3 bounty of 50 lakhs. Hence, its show-time in Bigg boss 3.
The last days of Bigg Boss 3 Tamil show: For the millions watching Bigg Boss 3 Tamil show, it is the climax time now. After patiently and happily watching the 87 days, the viewers will now increase due to the final acts of treason, loyalty, or lack of it and many more. The real faces of the contestants and the greed to win the bounty of 50 lakhs will make the show an enjoyable and learning experience for both the contestants and audience alike.
Get ready for show time in Bigg Boss 3 Tamil show starting today with friends and lovers fighting against each other to win the title and the big prize money with it.