Bigg Boss 3 Tamil First Promo not About Vote its About Captain
Vijayan Sankar (Author)
Published Date :

Jul 13, 2019 15:44 IST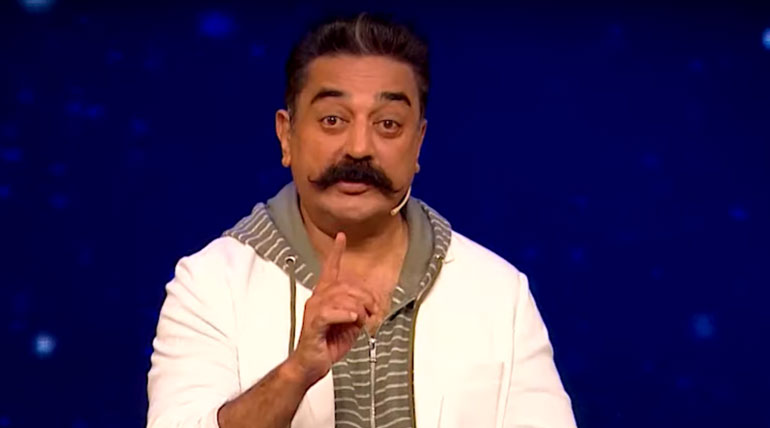 1st promo of the 13th day of Bigg Boss 3 Tamil promises Kamal to take on the contestants for their mistakes today
Tomorrow the 14th July 2019 the Big Boss 3 house will witness another contestant walking out of it. The talk of millions of Tamil people right now is on the question who will it be?
All are waiting for Kamal to give some hint about which contestant will stay or leave. But anyhow all have to wait till Sunday night to know for sure who will be sent out of the house.
1 st promo warns the captain of Bigg Boss 3 Tamil:
The much-awaited first promo was released only after 2 P.M today. It indicates that the time for action of the bigg boss is underway today. Kamal in this promo says the leader of the captain should know what he/she is doing, act on his own and should be brave in his/ her decisions.
Or else, Kamal warns it is time for the big boss to take action. He also points towards the screen where the confusion and commotion in the big boss house because of lack of captaincy credentials.
Promo is said to display the weaknesses of the previous captains of BB3:
It was Vanitha who was selected by luck in the first week as captain. But since it was the first week, she could not do her captaincy even though she has the full credentials for it.
The next week was Mohan Vaidya who except for raising the voice in one or two occasions failed to do his captaincy well. It was only during his captaincy the Vanitha team, and the others took on Madhumitha for her not so lousy comment on being a Tamil girl.
As a captain, Vaidya should have intervened and solved the issue amicably. But it blew out of proportion and everyone against Madhu. But the Tamil people watching it voted in favour of Madhu and thus showing the contestants of BB3 were wrong in the issue.
Abirami as captain:
When three contestants were shortlisted for captaincy, it was Abirami who became a captain by the unique nature of Sandy and Tharshan. But she also failed as a captain by not able to control the contestants in the BB3 house.
She was clueless of the happenings and even complained to big boss that she is forced to decide on sending two persons to jail. All this must have irritated Kamal who is going to take stringent action today.
Shakshi, the new captain for next week, may get some advice from Kamal about being a captain for the BB3 house. It is only going to raise the temperature of Bigg Boss 3 Tamil house with more split in the Vanitha team and also because of the tough captaincy of Sakshi next week.