Kavin and Sandy Romance in Bigg Boss Kondattam
Vijayan Sankar (Author)
Published Date :

Oct 30, 2019 14:50 IST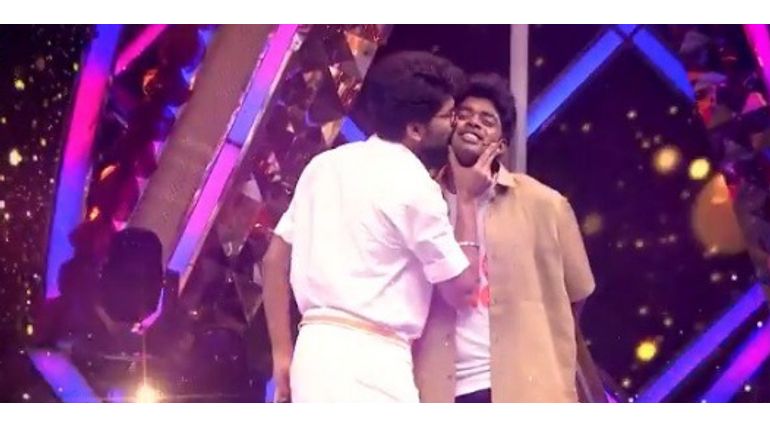 Ultimate Bigg Boss 3 Kondattam with Verithanam among contestants on stage: Most of the Bigg Boss 3 fans who were in the habit of daily tuning to Vijay TV at 9:30 PM can now tune it at 3:30 on 3rd November. They can have nostalgic memories of the 105 days of big boss three back on stage. Most of the 3rd season contestants will be on stage, and even give dazzling dance performances for you to enjoy the weekend.
The trailer of the show confirmed that Tharshan though missing the prize money would win millions of Tamil hearts once again. And especially the young female audience is what the trailer show.
Ultimate Verithanam in Bigg Boss Kondattam: The less than 50 seconds trailer of the big boss 3 Kondattam says it all. The Tamil audience worldwide has to postpone work at the time of the show on Sunday this weekend. The social media is abuzz with pictures of Kavin-Losliya to bring back the 100 days love on stage now. Also, the trailer shows the romance between Sandy and Kavin on the BiggBossKondattan stage.
The following are the highlights of it to showcase what is in store on 3rd November in Vijay TV.
Sherin is again talking about so much love and thanks to the audience in a gorgeous outfit.
Losliya becomes a white butterfly from Sri Lanka and also dances on the stage.
Kavin says again that he is going to only look after his work, and it is only for the audience to decide what work he meant to say.
Mugen does what he does best. Speaks about how artists are formed only by the support of people.
Gopinath praises Sandy of getting a lot of support from children, and Sandy mocks Mugen about getting the cup by only singing.
Tharshan enjoys with young co-dancers and also dances well to enthrall his fans.
Vanitha again starts a debate that someone will not escape when there is a problem.
Abirami is the crying baby again on the stage.
Cheran brings in a stylish young look in contrast to his appearance in the Bigg Boss 3 show.
All this in the backdrop of Thalapathy's Verithanam song is sure making the audience wait eagerly for 3:30 PM on 3rd November to make the big boss 3 memories fill all Tamil peoples' house with happiness.
பிக்பாஸ் கொண்டாட்டம்! 😎 #BiggBossKondattam - வரும் ஞாயிறு மதியம் 3:30 மணிக்கு உங்கள் விஜயில்.. #VijayTelevision pic.twitter.com/WO8fdkF0Kg

— Vijay Television (@vijaytelevision) October 30, 2019