Bigg Boss Tamil 3 Before Elimination Day Kavin Apologies - Losliya Breakup
Vijayan Sankar (Author)
Published Date :

Jul 19, 2019 16:06 IST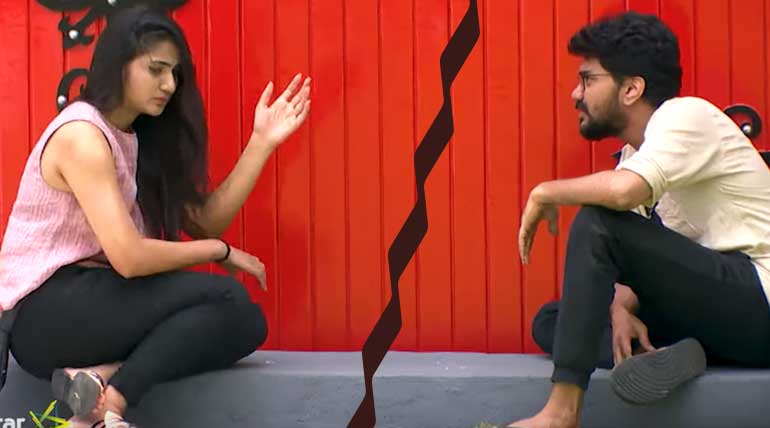 Kavin takes the center stage of day 16 with his apologies to his love affairs on day 26th of Bigg Boss Tamil 3
Kavin seems to take center stage with his love issues of day 26 of Bigg Boss Tamil House. The two promos released for day 26 only confirm it. With Vanitha left the show and no luxury tasks today it seems that the love affairs and its repercussions will be the highlight of day 26.
Kavin again but this time with Losliya:
Surprisingly the second promo also features Kavin but this time with Losliya. Losliya was feeling for Sakshi. She was worried about how could she can take what Kavin has done to her.
She also says she should have been mad to have talked to Kavin. To that Kavin says I am done for which she says she is also done and leaves.
Anyone watching these two promos will go mad. No one can understand where these conversations are leading. What Kavin did playfully for the past 25 days must be haunting him now. But some have the opinion it is only to keep the interest of the audience towards the show.
But from the expressions of Losliya she may speak from the heart. But that too is not certain. In the case of Sakshi, many are aware that she is playing the game with Kavin. Her late night and secret talks with her friends Sherin and Reshma only confirm it.
Kavin asks sorry to Sakshi again:
The first promo shows the jailed Sakshi talking to Kavin late night. The setting seems to be that of darkness with the red night lamp. Kavin once again says I miss you to Sakshi.
But she says nothing is there between us. Kavin asked how you could say such a big word. To that Sakshi says you also said that everything between us was only for jolly. To that Kavin concludes the promo by asking sorry. No one can guess where this is going to end.
Today is the last day of the week apart from the love affairs of Kavin what is going to be special can be known from the third promo and also by watching Bigg Boss Tamil at 9:30 in Vijay TV and Hotstar.