Bigg Boss Tamil 3 Day 29 New Contestants for Elimination and Fun Sandy
Vijayan Sankar (Author)
Published Date :

Jul 23, 2019 11:19 IST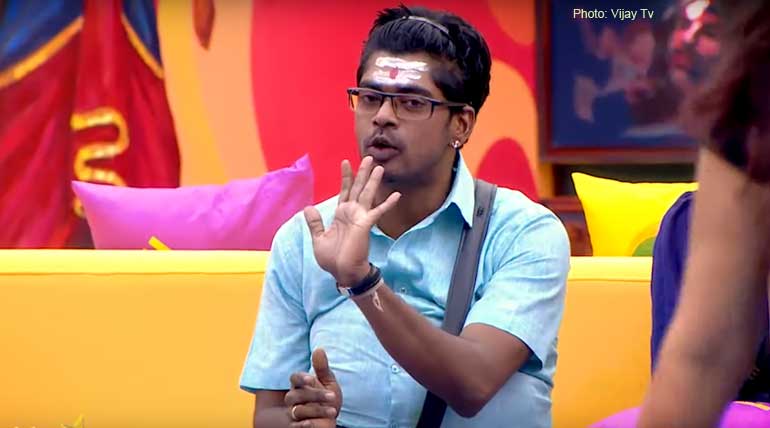 Sandy the entertainer, Kavin, the lover entertain day 29 of big boss 3
Sandy proves his entertainment capability once again as Vaidya, the continuance of Kavin's romance and nomination are the two highlights of day 29 of big boss 3 Tamil.
The contestants started the day with a lacklustre dance performance for the morning song.
Next funt ask started by Madhumitha, selling vada in the Bigg Boss 3 Tamil house as in selling it in a train. The local slang was better with Reshma than that of Madhu.
Nomination lists out six contestants of the week:
The nomination process started early and again it was Cheran, Saravanan, Abiraami and Meera again. Cheran wanted to go out to find out who is voting against him.
The surprise nominees were Kavin and Sakshi. Though not nominated once in the past three weeks, they got five and seven votes for nomination from the contestants.
The nominees for eviction from the Bigg Boss 3 TMail are in line only with these two. And it remains a mystery for many why the other four of last week is nominated again.
The following are the list of votes by the Bigg Boss Tamil contestants.
Who voted for who:
Sakshi - Meera, Saravanan
Sandy - Abhiraami, Sakshi
Kavin - Sakshi, Abiraami
Tharshan - Kavin Sakshi
Sherin - Meera,Saravanan
Abhiraami - Kavin, Meera
Saravanan - Abirami, Cheran
Cheran - Kavin, Sakshi
Madhu - Kavin, Sakshi
Mugen - Madhu, Saravanan
Meera - Sakshi, Abiraami
Losliya - Sakshi Meera
Reshma - Kavin Cheran
Losliya asks sorry to Kavin:
Losliya in an unprecedented move asks sorry to Kavin and says that he has not acted to her at least. She once again asks sorry for nominating him in the eviction list. Kavin to that says she pierced his heart and now pierced his back.
Cheran convinces Losliya:
Cheran and Sakshi start talking about eviction. Cheran consoles her that she should not be upset about being nominated for eviction. Cheran says to Losliya she has changed.
To that, Losliya says she was hurt because of Sakshi's words. Sakshi said she was only friendly to her.
Sleeping issues with firing was the afternoon issue between Madhu, Sakshi, Reshma, Cheran, and others. Sandy came down with the Bombay song to entertain everyone.
Tharshan was funnily flirting with Sherin and made more fun by Sandy and Kavin.
New teams form in Bigg Boss Tamil house:
Saravanan starts guessing who could have voted against him, and Kavin joins them. Kavin says Sakshi is responsible for a lot of his misgivings in the house.
Earlier it was Sakshi, Cheran, Madhumitha, and Losliya guessing about the eviction nominees. There seems a vertical split between the contestants after yesterday eviction.
Sleeping issue balloons:
The big boss ordered Reshma, the captain, to stop sleeping in the afternoon of the contestants. Reshma comes out and wakes the sleeping baby Meera and asks her to get out of the bed.
Losliya asked Sakshi whether she asked Meera for telling her to be a "loose". She said I asked sorry and then complains that Losliya asked her to think and speak.
Reshma searched the whole house for Losliya and Abirami when they were sleeping under the cot. Big boss shoots to bring them up. Reshma gets angry and advises them both.
Sandy makes fun with Vaidya getup:
Sandy starts hugging Meera as she was putting makeup for him as Vaidya. As he goes from one girl to another hugging and kissing them all the way.
Sandy proves he is the entertainer of the Bigg Boss Tamil house.
Pattu padava parthu pesava game starts:
Madhumitha announced the start of the task and started with herself of commenting not to desire many girlfriends.
Kavin gets the right card to show his expressions to Sakshi, and the problem is Sakshi enjoying it. The day is more of happiness and mystery of nomination.