Bigg Boss Tamil 3 Meera Mithun Elimination Confirmed by Public by Saving Director Cheran
Anusha Sathish (Author)
Published Date :

Jul 28, 2019 09:57 IST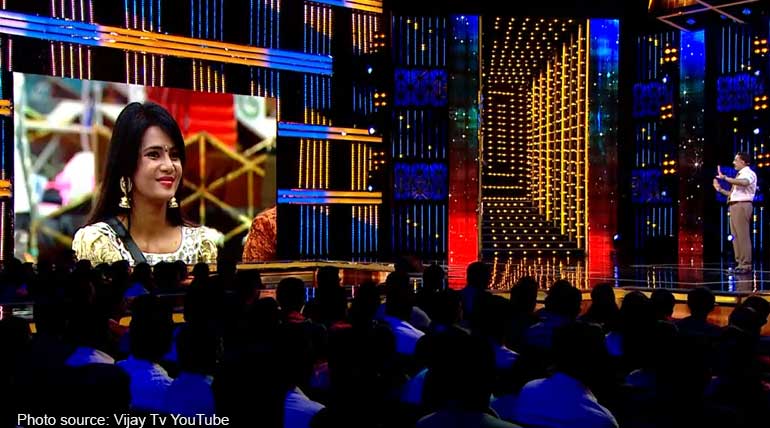 Bigg Boss Tamil season 3 has reached its peak and contestants are getting ousted one by one every week. In today's elimination process it is confirmed that Meera eliminated with Friday show activity, Millions of votes diverted to Cheran. Saravanan and Kavin Saved in 1st place and other contestants safe list not announced when Meera eviction announcement came.
Yesterday's was a big day where Kamal did take all paths to explain the wrong intentions of Meera Mithun towards Director Cheran. Cheran was too sensitive and shed his tears as a token of thanks. Kamal was advising him not to cry when things are not at his fault for which Cheran nodded. Losliya was apparently tagged Cheran as a gentleman and expressed her respect towards him outlining his behaviour in his entire tenure hitherto at home.
Meera, on the other hand, tried to advocate her deeds. It was evident that her personal grudge towards Cheran from the beginning did he act like this. Everyone except Meera Mithun said it was an exaggerating move by Meera. The video clip showed how she reacted to that moment. Abi's statement was crisp that if at all Meera was uncomfortable, it should have been expressed immediately on her face. "She too enjoyed the moment and all fun and laughed drawn on her face. Hence absolutely no troubles and no reactions. Later she played a strategic move to capitalise on this opportunity and exaggerated it."
Not only the contestants, the public too felt the same. Her facial expressions were also clear to conceal. In spite of earning bitterness from everyone, there are now speculations that Meera Mithun will be evicted this week. A situation like this could be understood this way too viz Vanitha was evicted the coming week on account of accusations and interventions from police officials. Meera Mithun also got caught in accusations. Figuratively this too could be the reason. Whatever the case may be, she does not deem fit to continue in the house. Housemates did not like her from the time she entered, and now public also has strong reasons to go against her. But still under wraps, " Is Meera evicted today?" Yes, she got evicted based on her last day activity against Director Cheran.