Bigg Boss Tamil 3: Abirami Could Get Highest Votes to get Saved From Elimination
Anusha Sathish (Author)
Published Date :

Jul 19, 2019 23:25 IST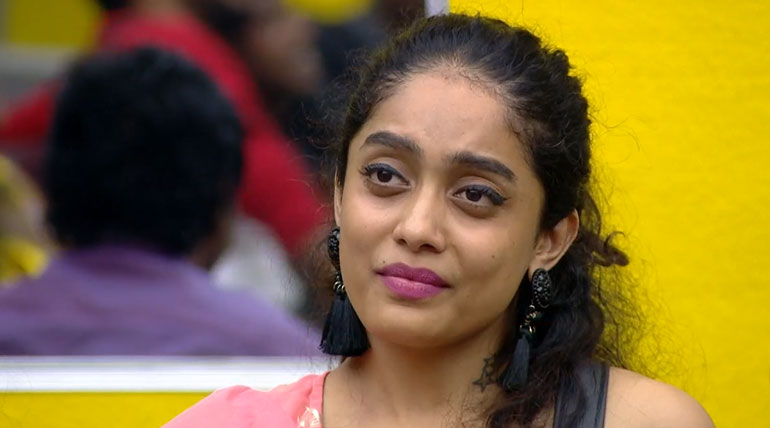 Bigg Boss Tamil Elimination Lists: Abirami has the Whip Hand
Bigg Boss Tamil season 3 hosted by Ulaganayagan Kamal Haasan is rocking the stage with umpteen contents from every housemate.
In this week elimination list, Abirami, Cheran, Mohan Vaidya, Saravanan and Meera Mithun nominated and among five contestants, one contestant will get Elimination Card.
Based on character change over and not shown in much trouble inside Bigg Boss house and maturity behaviour will bring highest votest to Abirami.
Angry Bird Abirami Venkatachalam in Elimination List:
Abirami was once an angry bird but posted her captaincy stint, and she became all cool and perfect. She was in every fight on the initial days, but now the situation has come where we need to search where Abirami is in the Bigg Boss Tamil house.
She has mistaken things, and she was also being taken wrongly. Slowly she tried to restore the situation, and she is getting succeeded. Public votes are expected to favour her this time.
Madhumitha and Abirami have found the knacks to pursue in the house, which is the right strategy. Even to the public, their motives and characters have gone behind the screen.
It is even wondering whether Abirami is there in the elimination list. Somehow time favours her. As new issues are popped up, the older ones are becoming trivial. So content giving has become the purview of the show.
Unlike the previous two episodes of Bigg Boss Tamil Season 1 and 2, the content was not obvious, but in Bigg Boss Tamil Season 3 episode is content-centric.
But, what, where and how the content has to be provided is not clear. This time except for one or two contestants, the action is clear. Nothing is from the heart, but lip sympathies are just blowing.
Which is real Abirami?
The one who was before or the one who is currently showing up? The stark contrast between the behaviours does not clearly draw the lines. But the public does not have animosity towards her as the elimination list feeds them with a lot of choices.
Still, it is not clear as in who is going out of Bigg Boss House? 48 hours from now will give you the right response.