Bigg Boss Tamil Contestant Mohan Vaidya Hugs and Kisses
Vijayan Sankar (Author)
Published Date :

Jul 17, 2019 09:54 IST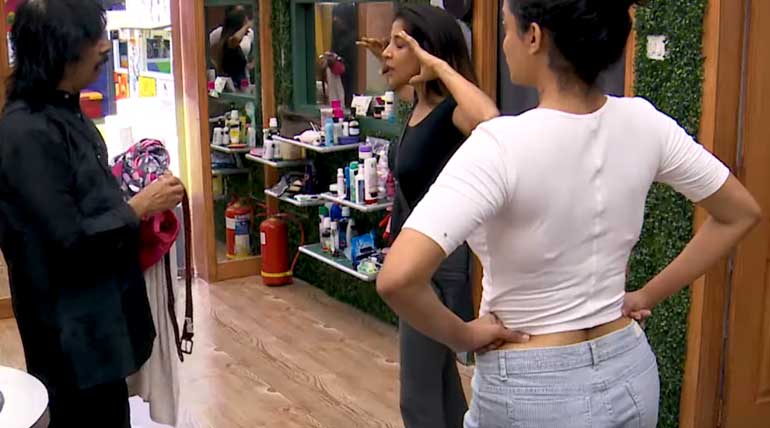 Chocolate and Vaidya kisses hot up the 23rd day of Bigg Boss Tamil 3
Is Vaidya after kisses from the young girls and creates issues? Who is correct Sakshi or Meera and is Sakshi becoming the next Vanitha of BB3 house? Chocolate confuses and splits Kavin-Sakshi & also Kavin – Losliya.
The above three questions arose to the audience and contestants on day 23 of Bigg Boss Tamil House. After the successful selling of the fish by contestants in the morning, everyone in the bb3 house started to do what they do best.
Meera asked the first question in the morning of the 23rd day of Bigg Boss Tamil. Vaidya made an issue of nothing in the morning and got kisses from the young girls in the bathroom. It was the chocolate to create the next issue.
Losliya started it with saying Kavin gave chocolate to her. To that, Sakshi was shocked as she has given one to Kavin. Since Losliya had two chocolates one from Tharshan and other from Kavin, it started to balloon into a big issue. It summed up to what Dharshan sang about the issue "The whole world is a drama stage, and everyone is actors."
Tick Tick game and the struggle of Meera in Bigg Boss Tamil house:
Cheran reads that the points of the week's luxury task will be decided by time and by a game called Tick Tick. It has four rounds, each carrying 200 points. Bigg Boss asks to determine two to play the game and one to encourage them. There are 300 clocks in the task room, and the alarm is set in two of them.
The contestants have to find them within 10 seconds to get 700 points, and 100 points will be reduced for every excess of 10 seconds. Sandy and Meera were the first two contestants with Cheran to encourage them. Both completed the task within 18 seconds and got 600 points for the contestants.
Sakshi weaving trouble in Bigg Boss Tamil house:
In the bathroom, Kavin said that Sandy without Meera would have done better. To that, she said she only found the second clock. Kavin is again in the storm for insulting Meera, and she is upset with it.
Girls are not only laughing objects, and she does not know to cheat others by keeping on laughing. Sakshi seems to set up Meera against Sandy and Kavin. She only approached Meera to solve the issue and set up a meeting. Meera never asked for it as she rightly claims.
That puts Sakshi on the shoes of Vanitha as the leader of the team. The day ends with the crying of Meera alone in her bed.
How the three-way feud of Sakshi-Kavin-Losliya is going to fan out tomorrow and how Meera is going to solve the web against her by Sakshi & team will be the highlights of tomorrow's 24th day of Bigg Boss Tamil.