Bigg Boss Tamil Sandy Tease With Punch Song to Vanitha
Vijayan Sankar (Author)
Published Date :

Jul 13, 2019 20:58 IST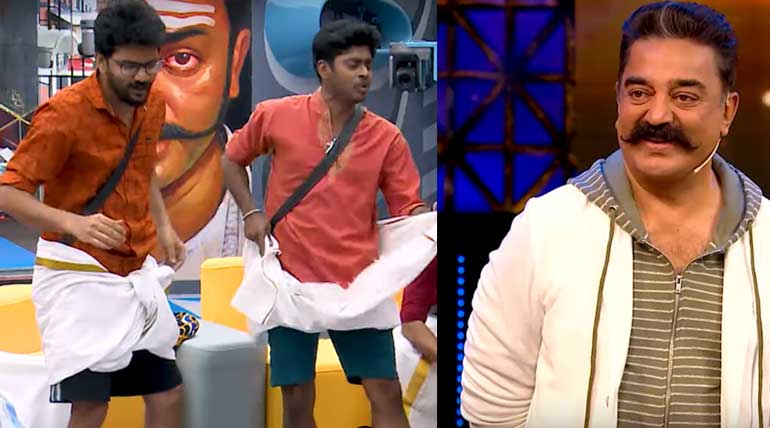 Bigg Boss Tamil Contestant Sandy's song and dance to pacify Kamal in the 3rd promo will bring the necessary result today?
After the two promos indicating some strict actions by Kamal today evening, the third promo highlights the lighter moments. Sandy, who is a genius in creating songs once again, proves he is the best in Bigg Boss Tamil House.
He seems to have created a lovely song praising Kamal from his famous Apoorva Sakotharargal film. Kamal and everyone in the show and the audience seem to enjoy the song and the dance of Sandy along with Kavin.
Kamal being pacified by Sandy with a gana song in his praise:
The first two promos in Bigg Boss Tamil promised some fireworks from Kamal aimed at the contestants and the captains. Now Sandy seems to pacify Kamal with a song praising him. It says that Kamal comes two days in a week and tears through the contestants. Also, he brings in the effect of the famous Guna song of adding manaa or thena in the song which Kamal enjoys with the whole heart.
There is a punch for Vanitha in the song also. Sandy asks to shut the mouth in the song when the camera focuses Vanitha and she understanding the meaning lowers her head. It has to be seen today night whether this effort of Sandy is going to cool down Kamal from the attacking mood of the contestants.
Will Vanitha or Madhumitha be eliminated tomorrow?
Tomorrow being the eviction day it is going to be interesting to determine from the speech, and actions of Kamal of who it could be. It is the question of many since Vanitha and Madhumitha the two key contestants who keep the show alive are in the list of eviction.
Both contribute to the TRP rankings and also to the enjoyment and fun for millions every night. So the question of them being evicted is in the minds of many people, including the contestants. But it is up to Star TV and Kamal to remove the right person and also to keep the show alive for another 80 + days.
Today night the Big Boss 3 episode could be heartbreaking on the hint of the evicted person or filled with corrective measures of the big boss house. But the brilliance of Kamal will be out in the display in dealing the contestants, especially about the murder task and the way captain was selected will be the main focus. Hence brace yourself for a fantastic wholesome evening entertainment today by big boss 3.