Bigg Boss Tamil Season 3: All Contestants Missed Call Numbers
Vijayan Sankar (Author)
Published Date :

Jul 05, 2019 21:50 IST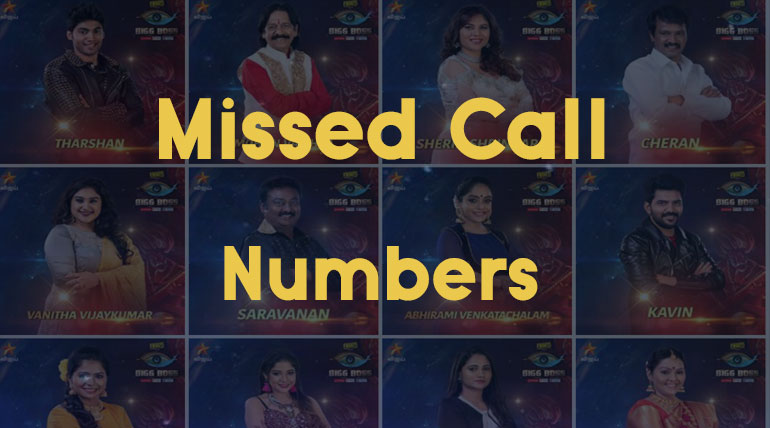 Missed call voting will save the right contestant win the Bigg Boss 3 Tamil
The first elimination of the 3rd season of Bigg Boss 3 Tamil is to happen on Sunday, July 7, 2019. The seven contestants nominated by the Bigg Boss for elimination are under severe pressure of not knowing who it is going to be.
Bigg Boss 3 Tamil Vote picked these seven contestants for elimination taking into account their nomination by other contestants and also specific criteria which will be explained by the Big Boss after the elimination of the contestant.
Give 10 missed calls immediately to your favorite or right contestant to save him/her from elimination:
So if you want to save your favorite or right contestant, you are already late. The voting ends by tomorrow midnight. You have a valuable 20 missed calls which you can vote 10 each for today and tomorrow.
You can call from any network and dial the number given below across the contestant. If you want to support more than one contestant, you may split the 10 missed calls according to the number of contestants you want to help.
Vote for Fathima Babu: 8367796803
Vote for Losliya: 8367796805
Vote for Sakshi Agarwal: 8367796810
Vote for Madhumitha: 8367796806
Vote for Kavin: 8367796804
Vote for Abhirami Venkatachalam: 8367796801
Vote for Saravanan: 8367796812
Vote for Vanitha Vijaykumar: 8367796815
Vote for Cheran: 8367796802
Vote for Sherin Shringar: 8367796813
Vote for Mohan Vaithya: 8367796807
Vote for Tharshan: 8367796814
Vote for Sandy: 8367796811
Vote for Mugen Rao: 8367796808
Vote for Reshma: 8367796809
Vote for Meera Mithun: 8367796816
Apart from the missed call, there is another option also to vote for the contestants. Click on our site to learn more information about it tomorrow. Now it is time you pick that phone and give the missed call to your famous contestant. Maybe this missed call would help your favorite contestant to even win the Bigg Boss bounty prize.
The most favorite contestants for elimination:
Mira Mithun who came a day late to Bigg Boss Tamil Season 3 has got eight nominations from the contestants and Madhumita has got seven nominations. But the happenings for this week after the announcement of the elimination can turn the tables in favour of these two contestants.
Vanitha who escaped the elimination due to her random picking of the work allotment got captain post for the first week. It is mandatory that the current captain and the previous week captain to be excluded from nomination for elimination.
Taking it as an advantage Vanitha Vijayakumar and her team, including Sakshi, Abirami and Sherin, have always been bullying Mira and Madhu with the help of others. Abirami is also a surprise left out of the elimination list.
Hence there may be a surprise for contestants and audiences on Sunday, July 7, 2019, when the Bigg Boss Tamil announces the name of the eliminated person.