Bigg Boss Tamil Sherin Fight with Kavin for consoling Losliya
Vijayan Sankar (Author)
Published Date :

Sep 19, 2019 14:25 IST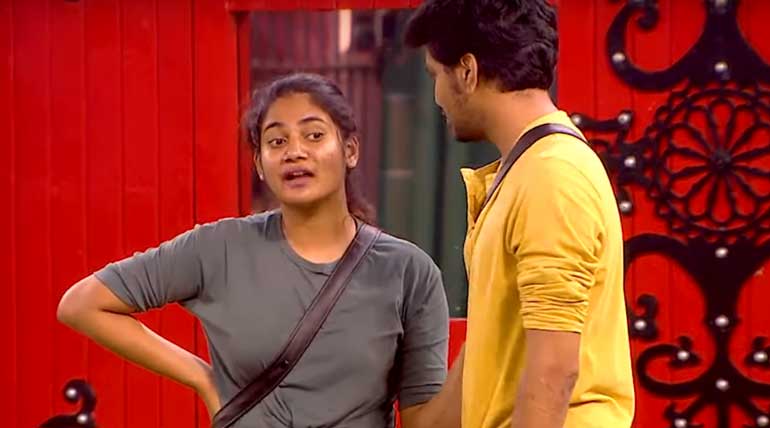 Bigg Boss Tamil Sherin fight with Kavin for consoling Losliya during the task today: Sherin kicks off the game basket to start a fresh row of the fight in the big boss 3 Tamil house. As expected, the fights between the remaining contestants is in full swing today at the big boss house. An angry Sherin irritated due to waiting for Kavin to come back to participate in the game left without playing it. It is after Kavin accusing everyone of not playing the tasks fairly. Everyone looked shocked by the ever-cool Sherin's behaviour, and the stage is set for more in the last 13 days.
Why was Sherin so angry today?
Kavin described Bigg Boss Tamil Sherin as the Psychologist of the Bigg Boss 3 Tamil house. She consoles everyone during their distress and acts as a truce maker for many contestants. But the heat of the last days is even getting her wits, and she showed it today. The games set out by the big boss for the contestants to be selected for the last four makes even Sherin to be angry and act in an immature way. When everyone was waiting for Kavin to come back after consoling Losliya, only Sherin got angry.
Why did Kavin give an angry reply to Bigg Boss Tamil Sherin?
Kavin continues standing for Losliya and consoles her for having fallen during running with Sandy for a task. Even Losliya was seen asking Kavin to get back to the game. But Kavin, with his genuine affection for Losliya, takes his time and comes back to the task. An irritated Bigg Boss Tamil Sherin asks why to participate in the task if not interested. To that Kavin says no one is playing the game fairly. He did not even pinpoint Sherin for foul play. But she gets angry and makes the balls fly in the air by kicking the basket and leaves the task room.
Today's instances only confirm Kavin even in these final stages, is not stopping to care and stand for Losliya. It is one factor which is going to be the talking issue of the cunning and cutthroat last days of Bigg Boss 3 Tamil show.
&nbsp
Tags :&nbsp
Bigg Boss Tamil Vote
,
Bigg Boss Tamil 3
,
Bigg Boss 3 Tamil Vijay Tv
,
Bigg Boss 3 Tamil Sherin Missed Call Number
,
bigg boss tamil vote count
,
bigg boss Tamil this week Elimination
,
Bigg Boss Tamil Elimination Today
,
Bigg Boss 3 Tamil
,
Bigg Boss
,
bigg boss Tamil season 3 latest update
,
Bigg Boss Tamil Sherin
,
Kavin consoles Losliya in Bigg Boss Tamil house
,
Bigg Boss Task activities