Bigil audio launch increased the hype with Vijay speaking more than usual on a variety of topics
Vijayan Sankar (Author)
Published Date :

Sep 20, 2019 08:20 IST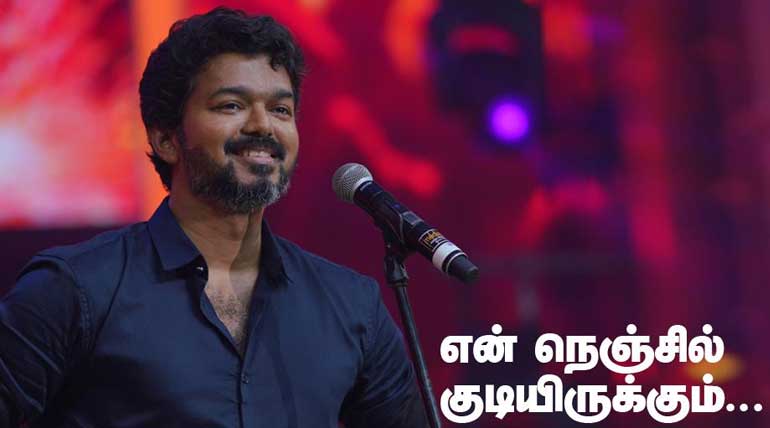 Bigil audio launch increased the hype with Vijay speaking more than usual on a variety of topics: The much-awaited Bigil audio release was conducted yesterday, and colorful LED-lit celebrations went late into the night. But Vijay fans waited patiently for their Thalapathy to speak and enjoyed his every word. He talked about a variety of topics issues including trolls, banners, life & football, MGR & Karunanidhi, blame game and the real people behind Subhasree death and many more. Atlee praised Vijay and said he is only comfortable directing him than anyone else. Overall the audio launch created more hype than expected for the sports drama Bigil yesterday.
What were the issues that Vijay touched during his speech?
Vijay is known to be a silent killer and relies more on action than words, started speaking more in functions after Mersal issue and victory. And that is what he did yesterday night to the happiness of his fans. Though he also talked about Bigil and football, he spoke about many issues including
Vijay started his speech with his famous Verithanam song, he sung in Bigil for the first time in AR Rahman musical

Vijay's timely comparison of the movie concept of the football game with life got a good response. He said that people would stop you from hitting the goal, apparently referring to Merasl issue. He also said that there would be many same side goals relating to backstabbing and requested his fans not to follow it.

Supporting his fans, he said that out of a lot of difficulties they keep banners. He said that pulling down his photos and banners does hurt not him but requested not to hurt his fans.

As expected, he touched the Subashree death issue and said, leaving the real person responsible for such a drastic occurrence and arresting the printer is not correct.

He also talked about trolls and said that trolls with a good intention and humor is welcome but should not hurt others. To this, he brought in a classic example of the Tamil Nadu political Jambavans MGR and Karunanidhi. He referred to an incident where MGR sent out a person from his car for speaking wrongly about Karunanidhi and said that even opponents should be respected.
Vijay stole the spectacular audio launch show conducted grandly in an engineering college in the outskirts of Chennai. It was a grand gala event as to the level of Kalpathi Agoram's AGS productions. AR Rahman said that he and Vijay exchanged only laughs during the recording of the movie. Atlee and Archana Kalpathi were in all praises for Vijay anna.
All is well with the grand gala mega audio launch of Bigil, setting the stage for its big release on the big screen coming October, to bring the most memorable Deepavali for Thalapathy's fans.