Cheran's Daughter Exhibited Her Possessiveness Towards Him in Big Boss House
Anusha Sathish (Author)
Published Date :

Sep 13, 2019 10:02 IST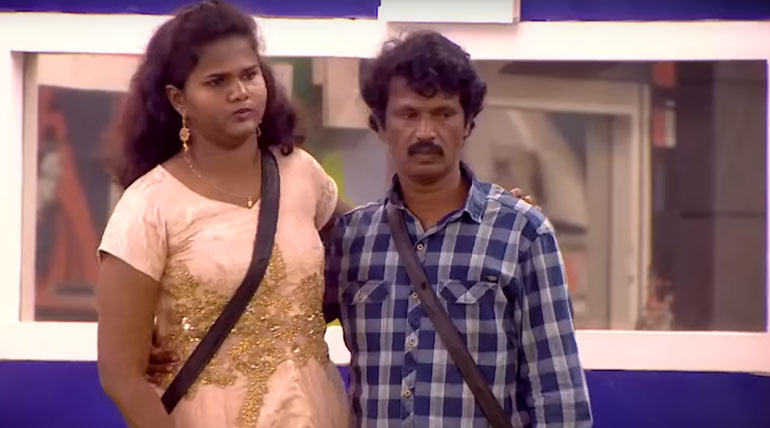 Bigg Boss house is swamped with emotions and feelings. Yesterday it was a one-up when Cheran's daughter said him, "Akka (Elder Sister) and I are your daughters and no one else can take the place," alluding Losliya for which Cheran nodded his head positively. When they were sitting in a group, his daughter said, "My father does not know pretention.
Since you called him father and as he accepted you as his daughter, he does not know to differentiate between you and me going forward," for which Losliya concurred "yes." Every time when somebody's relations come in, Cheran's emotion is well underlined with his visages. Somehow with his family and especially with Cheran's mother, we felt the rural bond which is missing currently in this generation.
Losliya though is very close to Cheran all these days, she talks behind, and the same was communicated to him by the housemates before. But his intentions were pure and no change later to that. Now let us see whether any changes are reflecting post her daughter's hint. His sister looked calm and sober, and overall, the rural cultured bonding in the family was well exposed without any pretentions. Apart from Cheran's family, Tharshan's and Vanitha's were also present yesterday.
Tharshan's sister was advising him to play the game like a game and win and come. The advice was not so intense and required a close-up. But still, it was a little dramatic. Vanitha's two cute daughters were enjoying with the housemates. In one instance, the younger one slapped, the elder one as part of the game discipline, and it was looking a real fun. Cheran's face was flashed for a second during Vanitha's family time, and it was filled with sensations.
Overall the family time was nice yesterday, and the final three weeks will further invite critics and confusions in the house. Awaiting the moments.
&nbsp
Tags :&nbsp
Bigg Boss 3 Tamil Losliya
,
Bigg Boss 3 Tamil Contestant Cheran
,
Bigg Boss
,
Bigg Boss 3 Tamil Tharshan
,
Bigg Boss 3 Tamil Tharshan
,
Bigg Boss 3 Tamil
,
bigg boss Tamil 3 Famous Contestant
,
Bigg Boss Tamil Elimination Today
,
Bigg Boss Tamil Eliminated Contestants List
,
bigg boss tamil vote count
,
bigg boss tamil vote result
,
Bigg Boss Tamil 3
,
Bigg Boss 3 Tamil Vijay Tv
,
Cheran daughter BB House
,
Tharshan family in bigg boss house
,
Vanitha kids in bigg boss house
,
bigg boss 3 tamil family time