Darbar is Releasing Tomorrow including Malaysia
Vignesh Subbaian (Author)
Published Date :

Jan 08, 2020 16:04 IST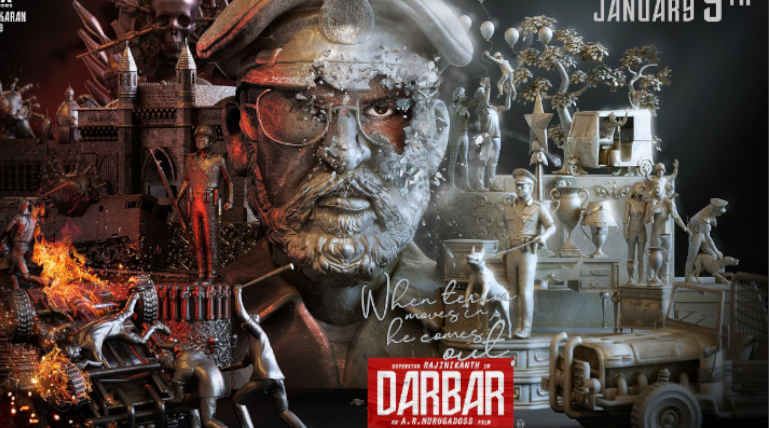 Darbar is making its expectations by the people less with new surprises. COO of Lyca productions on January 6, confirmed Darbar to be released in 4 languages in 4000 theaters all over India. And that is not all; it is going to set another record by being released in 7000 theaters worldwide. From Airtel, Cadbury to Bookmyshow, all are getting tied up with Darbar for its grand release tomorrow, January 9. Superstar is once again going to prove to the world what his value is in cinema and why he is the Badshah of box office collections.
P. Kannan, the COO of Lyca Productions, the producer of Darbar, met the Press on January 6 in an Airtel event to announce their partnership with Durbar. He confirmed that the movie is released for the first time in the film industry in 7000 screens worldwide. New release centers, including some islands, have been added for Durbar release. Other then the above, Darbar has been freed by the court to release Malaysia with a bank guarantee of Rs. 4.90 Cr, where the film's release was doubted so much.
Manoj Murali, the Bharthi Airtel CEO, said that they are delighted to continue their tying up with the superstar movies. Darbar-branded SIM cards with limited edition were launched in the event. He also said that Airtel customers could have a highly interactive Darbar Quiz on Airtel Xstream app to win tickets to Darbar movie, other exciting prizes, and even have an opportunity to meet the movie crew and cast.
Darbar said to be produced with a budget of 300 crores by Lyca, is set to make new records for not only Rajni but for Indian film history. Lyca is not leaving any stone unturned in advertising the movie at all levels. Even flights with Darbar Rajni photos are flying high like it was done for Kabaali.
In Chennai's prestigious Mayajal, Darbar movie, like never before, is going to have 87 shows tomorrow from the previously planned 75 shows. It shows the renewed interest of the advance bookings for the superstar's Darbar. In America, Darbar premier is to be released today, and many more promotional activities are in full swing for Darbar.
Rajni fans want to make the most of Darbar by announcing that irrespective of Tamil Rockers leaking the highest digital Darbar, they will make it sure that Darbar is a super hit movie by only watching it in theaters. In Salem, they have asked permission for showering flowers on the Thalaivar's cut out from a helicopter. As usual, many fans have started eating mud food and piercing "Alagu" on their faces and doing many other rituals for praying to God to make Darbar a superhit movie.
On the movie side, Rajni's police DSP role in Moondru Mugam is not even forgotten after thirty years by the people. And for director Murugadoss, he may want to make up with the superstar that he was unable to do in Ramana movie in 2002. It became the turning point for Vijayakanth to become the opposition leader in the Tamil Nadu assembly. And what is Darbar going to make Rajni is the question among not only his fans but for all the seven crores of Tamil people not only in India but in several countries around the world.