Dhoni Ziva Father Daughter Love in Viswasam Ajith Style: Raina tying Rishabh Pant Shoelaces
Karthik Rajkumar (Author)
Published Date :

May 11, 2019 15:37 IST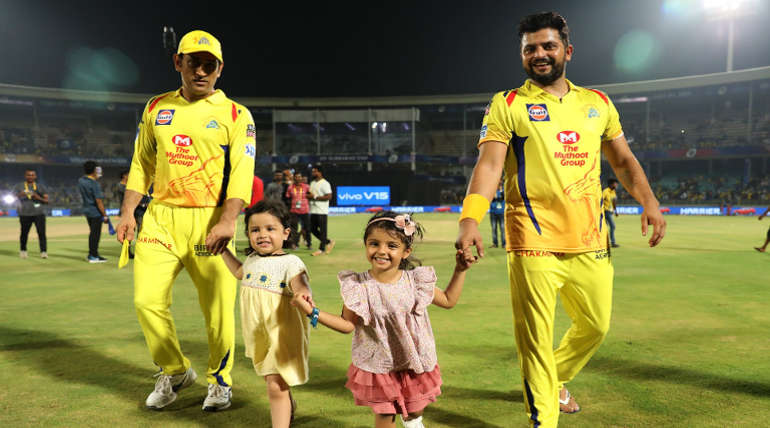 In the climax scene of Ajith's movie Viswasam, the father-daughter sentiment scene in the athlete ground is extraordinary and it brought tears in the eyes of Tamil audience.
In the same manner, after the victory of the 'Qualifier 2' match in the IPL Season 12, Chennai Super Kings Captain Dhoni has played in the cricket grounds with his daughter Ziva for fun. Also, Ziva kissed his father Dhoni. If the BGM of Vishwasam has been played at the background, the father's kiss to daughter perfectly matches the Viswasam scene.
In the 12th IPL series 2019, Mumbai Indians, Chennai Super Kings, Delhi Capitals and Sunrisers Hyderabad were qualified for the playoffs round. In the first qualifier match, Chennai Super Kings was defeated by Mumbai Indians by 6 wickets thus troubling Chennai to prove its performance in the Qualifier-2 match against Delhi Capitals.
Naturally, there has been a hipe for this match among IPL fans. Chennai team restricted Delhi to 147 and later managed to reach the target in just 19 overs. Following this result, the Chennai team created a record and stepped into the final round for the 8th time out of the participated 10 series.
Even though the media is highlighting the age factor in connection with the T20 Hero Dhoni, it is all the uniqueness of Thala Dhoni. In the upcoming Sunday's final match, CSK team is going to face its all-time rival in the IPL i.e., Mumbai Indians. CSK fans expect that the match would be a revenge for the defeat attained in Qualifier-1. Meanwhile, in the Twitter comments, Chennai fans warn the Mumbai fans highlighting CSK's recent victory against Delhi.
At the end of the match held at Visakhapatnam, Dhoni played with his daughter Ziva in the playground. Seeing this, another Chennai team player Raina also joined with his daughter Gracia.
Then, Ziva and Gracia played together. Both of them pose with hands-in-hand holdings with each other and also with their dads Dhoni and Raina. These photos are becoming viral all over social media.
Keeping aside of yesterday's success and father-daughter love, another interesting moment in the yesterday's match was that Raina was tying shoelaces to Rishabh Pant in the mid-match while he was in the batting side and Raina in the fielding side. Raina's video footage has been viral and trending and is more like by not only the Chennai fans but also the fans of other IPL teams. It is one such example to Raina's humanity.
People love that Suresh Raina (@ImRaina) tied @RishabPant777's shoelaces during the #CSKvDC Indian Premier League qualifier. 🏏 https://t.co/jsdH3hJSs4

— Twitter Moments India (@MomentsIndia) May 10, 2019