Latest Official Confirmation of Diwali Release Tamil Movies 2019
Anusha Sathish (Author)
Published Date :

Sep 10, 2019 12:22 IST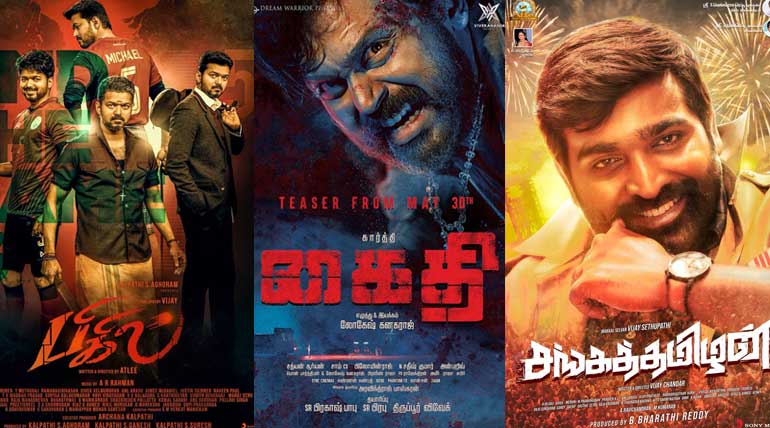 Diwali movies all set to burst along with crackers (Bigil, Kaithi and Sanga Thamizhan to embellish the theatres) Diwali Release Tamil movies 2019 officially confirmed. It is expected that three movies have got the space to hit the screens on Diwali.
Bigil movie release date is October 25th 2019.
"Bigil" is talk of the state for quite some time. Even in social media, it has gone viral with Vijay fans keep sending some updates regarding the movie in order to keep the audience intact. Bigil is directed by Atlee and produced by Kalpathi S. Aghoram, Kalpathi S Ganesh and Kalpathi S.Suresh. Vijay's "Sarkar" movie has given a social message much before elections, and of late all his movies are social-focused commercial movies. Looking forward to Bigil movie and as a celebrity, the message he passes in every movie gets deep-rooted in youngsters' heart. Vijay got the cling of it and expectations are set for the same.
Nayanthara Kurian paired up with Vijay for the movie. She performs fantastically in lead characters in the women-centric film. Female fans also are looking forward to it. Music director for this movie is A.R. Rahman. He is de-facto the best and nothing can crown him better than the tag "Born to music and born for music" Shangeeth Sathyanathan is the editor of the movie who also takes care of special effects and visual effects.
Kaithi movie release date is October 25th 2019.
Kaithi movie is officially confirmed to release on Diwali 2019. Kaithi is visually appealing in hoardings and banners. Karthik's fans are expecting huge from this movie as his last movie "Dev" has not invited much positive reviews. Karthik's movies usually cannot be tagged the best concurrently it will not otherwise. It will always be worth watch once. Kaithi film is directed by Lokesh Kanagaraj. Sam CS plays music for Kaithi movie. The producers are S.R. Prabhu, S.R. Prakash Babu and Tiruppur Vivek. Philomin Raj edits this movie. Will this be the best competent to Bigil? Should wait and see.
Sanga Thamizhan movie release date is October 25th 2019.
The third in a row is Vijay Sethupathi's "Sanga Thamizhan" also confirmed to release on Diwali 2019. R. Velraj directs this movie. Nivetha Pethuraj and Raashi Khanna pairs up with Vijay Sethupathi. Nassar plays the supporting role in "Sanga Thamizhan". Vijay Sethupathi's last movie Sindhubaadh was not a hit, and Vijay Sethupathi's fans expect success entertainment from him as like his other movies. Mervin Solomon and Vivek Siva are the music directors.
Indeed, all big Heroes are hitting the screens during Diwali 2019. Bigil so far has created much buzz, and Vijay has a comparatively huge number of fans. Hence "Bigil" is expected to consume most of the screens followed by "Sanga Tamizhan" and "Kaithi".