Family Time in Bigg Boss 3 Tamil House: Mugen Rao Mom and Sister Appeared
Anusha Sathish (Author)
Published Date :

Sep 10, 2019 17:56 IST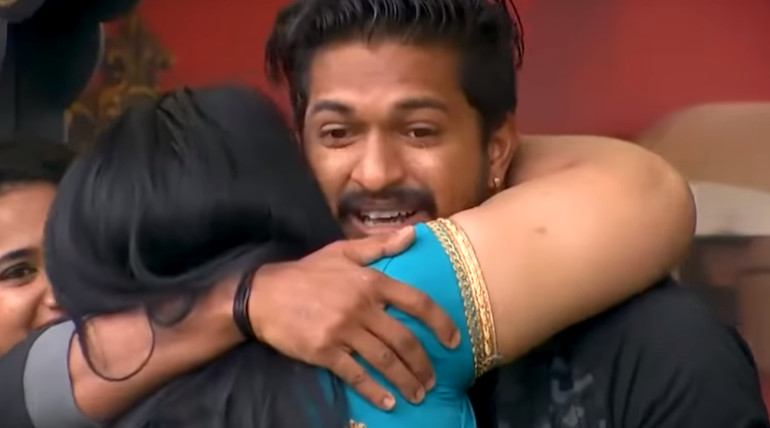 Bigg Boss house usually towards the end, invites contestants' acquaintances and relatives. We have witnessed the same in the previous two seasons. The time struck now for this season wherein today's promo Mugen's mom and sister came. Bigg Boss announces "Freeze" where everybody stands still inside the house. The door opens, and Mugen's mom appeared. Mugen unfreezes immediately and runs towards his mom. This moment indeed looks captivating. He lifts his mom, and suddenly his sister comes inside. He runs in excitement and lifts his sister and goes inside. His mother voices out, "You forget me looking at your sister," for which Mugen made some witty remark.
It started with Mugen, and the family time will be extended to others as well. Emotional showers will inundate the house for some time. Cheran keeps watching and experiencing the emotions from the secret room. Between, elimination nominations have been made. Vanitha's number was high. Everyone showed their apprehensions towards her. Losliya missed the lot being the captain, and Mugen also slipped off from the list. We are reaching the tail end of bigg boss Tamil season 3. Cheran will appear to post this week's elimination. Tharshan wanted to save Losliya and said, "Because we don't want to lose you, we made you the captain."
The others in the elimination list were Kavin (who directly got nominated due to underperformance in the task), Sherin, Tharshan and Sandy. Sherin and Tharshan also get some media trolls stating that they were looking happy when Cheran's name was shown as the evict. Kavin gathered strategically fans showing and speaking about his generous heart and selfless attitude at least once or twice in every episode. Not sure does he mean it or slip it of the tongue? Sandy always sails in the safe boat, and this time also, he will be saved is what is expected. Come what may let us enjoy family time in Bigg boss today.