Free Food Distribution by Actor Vijay Fans Across Tamil Nadu Vilaiillavirunthagam
Vijayan Sankar (Author)
Published Date :

Aug 28, 2019 16:24 IST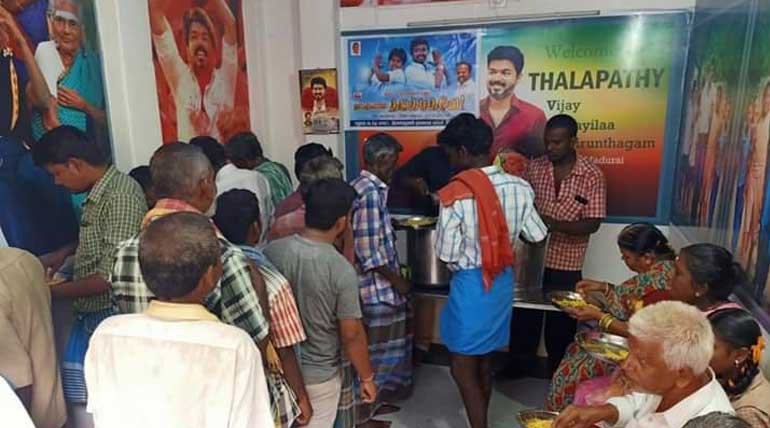 Actor Vijay fans #Vilaiillavirunthagam is trending on Twitter by completing 50 days of free food for poor across Tamil Nadu: #Vilaiillavirunthagam is trending in Twitter now. It is about the 50th day of free food distribution by actor Vijay fans across Tamil Nadu. Vijay, a mass hero in Tamil movies, is the darling of the youth of Tamil people. His films are breaking record after record. But in spite of all these victories, Vijay remains silent. But he does a lot of good social work without much publicity. And one of them is this free food distribution which started on his 45th birthday on June 22nd and has now completed 50 days silently and successfully.
What is this #Vilaiillavirunthagam? Vilailla Virunthagam means food without money. Actor Vijay fans across Tamil Nadu have started this free food distribution to benefit the hungry poor. They can come and eat without having to pay a single paise. It is conducted for the past 50 days not only in Chennai but also Madurai, Namakkal and many other places. On its 50th day of completion today, the hashtag is trending on Twitter now.
Vijay's movies and humanity: Being the son of film director Chandrasekar, Vijay started his film career as a young youth in 1984. Now he is one of the best box office collectors with a mass appearance on screen. His fans celebrate even his movie announcements in a big way. Mersal movie shot him to fame all over India and even around the world where all Tamil people lived. It made him one of the biggest stars Tamil movies have ever produced.
Being such a big star, he never talks much to media or anyone else in the film shooting also. But there was many news about his charity. There are marriage halls built by him in Chennai, where marriages for his fans and public are done for free of cost. Also during his birthdays a lot of welfare activities used to be conducted by his fans across Tamil Nadu.
Vilaiillavirunthagam better than Amma outlets: Even the Tamil Nadu government's Amma food outlets charge a minimum for food. But in Vilaiillavirunthagam, food is free for all those poor and needy people. It is easy to open such free food outlets for one or two days. But doing it for 50 + days is an achievement.
#Vilaiillavirunthagam is now the hot topic among the Tamil people and trended on Twitter to show the generosity of actor Vijay.