Good Newwz Movie review: A good Weekend Entertainment Stuff
Sivaranjani Soundararaj (Author)
Published Date :

Dec 27, 2019 17:37 IST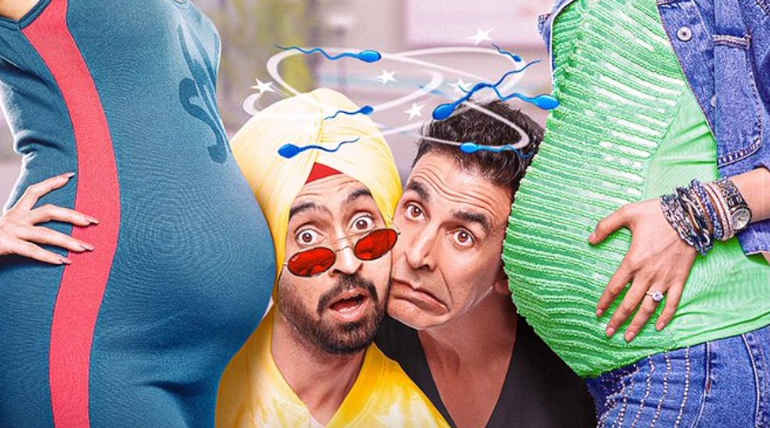 Akshay-Kareena's bids 2019 with emotional smiles: Good Newwz is a multistarrer comedy flick starring Akshay Kumar, Kareena Kapoor, Kiara Advani and Diljit Dosanjh in the lead roles directed by debutant director Raj Mehta.
Good Newwz undoubtedly brings heartful news to the movie slickers this weekend. Being the last week of the year 2019, everybody in the country is in celebration mode, and obviously, movies come as chief entertainment stuff.
Plot: Good Newwz storyline by Jyoti Kapur Das and Raj Mehta does not fail in the delivery. The movie revolves around the story of two couples with the same surname as Batra. Akshay-Kareena depicting as Varun (Car salesman) and Deepti Batra (Journalist), is a modern stereotypic couple who lives in Mumbai.
The loving couple ends in tragedy when they are planning their baby as the bed-making goes like an execution despite making love. Tragic child makers Varun and Deepti flops in the real-life reproductive journey and decides to produce baby via In Vitro Fertilisation. They meet Doctor Kapoor Khan (Adil Hussain), where their fate gets tied to another Punjabi couple Monika (Kiara Advani) and Honey (Diljit).
The unexpected mixing up of sperms between the couple i.e., Monika carrying Varun's sperm and Deepti with Honey's sperm tickles up the already firing condition to the extreme collapse of Batra's. What happens in the delivery journey of Batras with mixed emotions plots the Good Newwz movie under the banner of Zee Studios.
Good Newwz buzzes not only with comedy but end with a typical emotional data for the new age movie freaks. Raj Mehta screws up the first half of the movie with full-fledged comic line skipping scenes running off. Characters in Good Newzz are impeccable with their acting sequels to portray the usual mixing up sperms story in an intriguing behavior. IVF turns hellish with changed sperms in the surrogate wombs peaking the child clash emoting more fears of the child looks after birth as Punjabi and Mumbai stereotypes never match.
The second half falters completely downing the level of audiences in the screenplay with vague writing. But the critics feel Good Newwz is an amazing movie with light comedy bringing life issues in the limelight.
Songs of the movie, with the combination of several music directors, scores better with the Punjabi accent falling right in every scene of the flick.
Overall watching Good Newwz on the silver screens is the best way to bid farewell to 2019 with last weekend celebration.