Music director D Imman offers blind Thirumurthy an offer to sing soon in the big screen
Vijayan Sankar (Author)
Published Date :

Sep 22, 2019 13:37 IST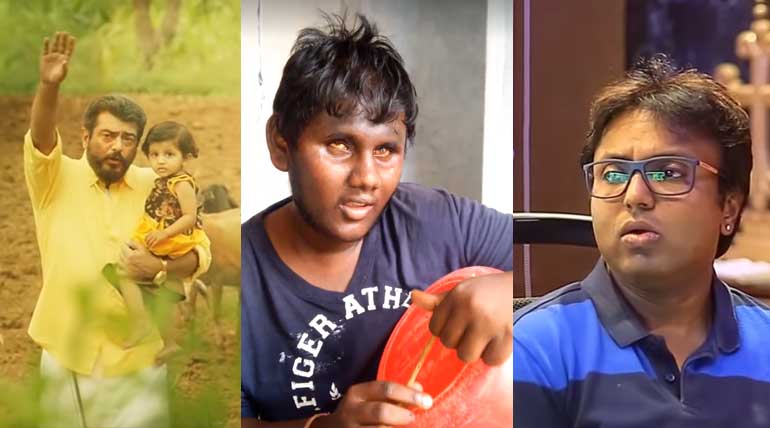 Music director Imman offers blind Thirumurthy an offer to sing soon in the big screen: Who said social media only trolls everyone and is used solely for criticizing celebrities? Yesterday's cinema singing offer of Imman to blind Thirumurthy from a small village in Krishnagiri proves them all wrong. The video of blind Thirumurthy singing Imman's song of Kannaana Kanney in Thala's Viswasam went viral within hours of its release.
More than 3 lakh people saw the viral video on the facebook page of Ajith fan, Ajith Madan. Music director Imman asked for the number of Thriumurthy and confirmed of offering him a chance to sing in his music soon. Also, we need to know the movie director Siva arranged specially for visually challenged people with Audio Description.
Immanuel Vasanth Dinakaran – Music director of more than 100 films
Immanuel Vasanth Dinakaran or known in the film industry as D.Imman is a silent music director for the past 18 years. The last two years D.Imman has given many hits like Viswasam, Kadaikutty Singam among others. At a young age of 36 years, he has proved his might in music with many hit songs to his credit and has a good future in the film industry. He showed his humanity yesterday by inviting blind Thirumurthy hailing from a Nochipatti village in Krishnagiri to sing a song in a movie where is to score the music.
Facebook post of Thirumurthy singing goes viral
The facebook post of blind Thirumurty singing the song of Kannana Kanne went viral within hours, shows the social media's far and fast reach among people. It got shared by 18 thousand people, and more than 3 lakh people saw the video within 24 hours and still counting. Imman being one of them called Ajith Madan within 2 hours and posted his offer of making him sing in his movie soon.
The fact only confirms that talent, wherever it is, will be quickly found, and with social media, it can be in lighting speed. Like Imman we wish blind Thirumurthy all the best and waiting to hear his voice on the big screen soon.