ads
Irandam Ulagaporin Kadaisi Gundu Review: Such a New Story
Sivaranjani Soundararaj (Author)
Published Date :

Dec 06, 2019 14:51 IST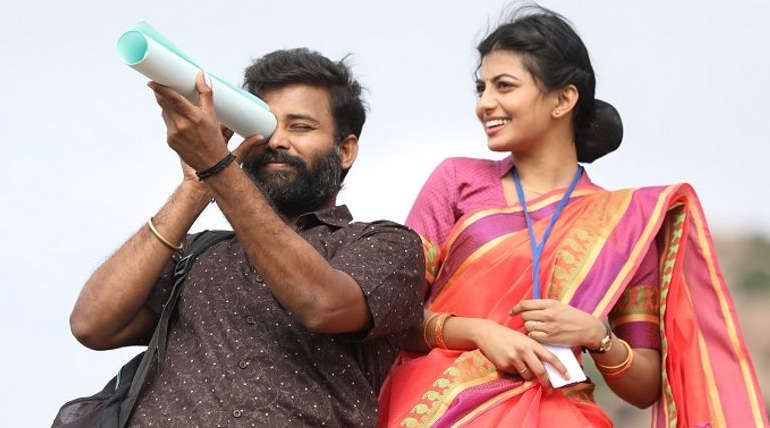 Attakathi Dinesh's Gundu movie review: Friday movies are in silver screens now for the weekend celebration plus the year-end. Irandam Ulagaporin Kadaisi Gundu is a Thriller drama all blasting the theatres with its story.
The movie stars Attakathi Dinesh pairing opposite with Anandhi co-starring Munishkanth, Rythvika, to play the critical roles connected with bomb and scrap.
Scrap is an underworld business twirling with huge monetary supply, which is anonymous in everyday life, and Irandam Ulagaporin Kadaisi Gundu portrays the historic script with the scrapyard world.
Critics report that debut Director Athiyan Athirai's Gundu movie is a fresh story scrap for the Tamil cinema, and the newcomer has dealt it well set an image for the Gundu scrapyard. Writing and making a film satisfying the script and audience is a challenge in this movie world, and Athiyan Athirai proved in his first attempt with Irandam Ulagaporin Kadaisi Gundu.
Gundu movie personifies the risks in every business and works right from the scrapyard illusions to the lorry drivers' hectic work-life in a natural way of storytelling.
Attakathi Dinesh plays the role of a lorry driver working in Marimuthu's scrapyard. Dinesh expresses love with B.Ed trained Ananthi with a vision to pursue a lorry of his own. To attain the goal of becoming a businessman, Dinesh engages in driving his last scrap load to Pondicherry in which an explosive bomb drives along with the hero.
Rythvika lining the reporter role in Gundu searches for the bomb on one side. On the other hand, police officers are in the searching mode as the bomb is in explosive condition. The bomb reaches the seashore and travels in the lorry somehow, and mysteries reveal that the explosive material belongs to the second world war period and disposed of in the oceans during the WWII times.
Gundu drama moves in an intriguing phase at the beginning, and the director's confusion enlights in the second half to express in comic or serious is an absolute minus from the filmmaker's point.
Dinesh, as usual, satisfies the storyline with his performance, and Ananthi has a bigger scope in the movie except for the love portions.
Tenma's music beats the soil power of the home ground as the story based on the world war, and the technicians' teamwork sets Gundu to hit the must watchers list.
It is bankrolled by Neelam productions Pa. Ranjith produces his second film after Pariyerum Perumal casting Kathir, and this is not up to the mark as a social message from the first movie produced.