Jackpot Movie Trailer: Revathi and Jyothika Debuted as a Duo in Full Swing Comedy
Anusha Sathish (Author)
Published Date :

Jul 23, 2019 19:10 IST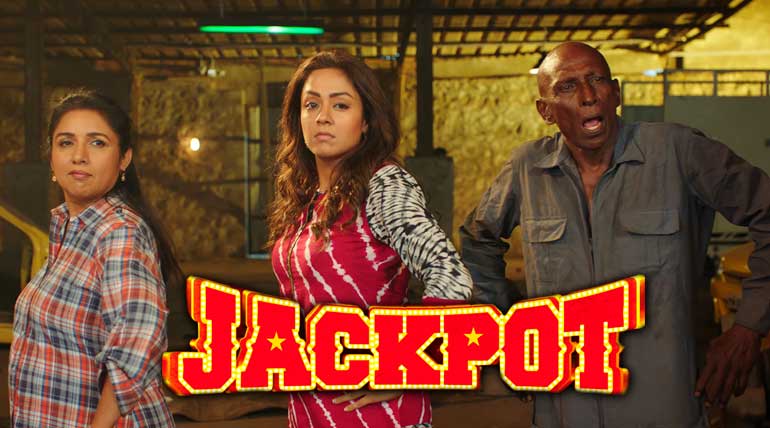 Jyothika and Revathi: Multi-roles for the duo
Jyothika who keeps us all engaged with woman-centric back to back movies has come up again on screen in Jackpot slated to release on August 2nd 2019.
The trailer has instilled much interest on what roles the duo took up in the movie. The trailer screened them with different looks viz police officer, doctor, and characters draped with Madisar.
It also voiced out the popular police characters in Tamil Cinema through Mansoor Ali Khan over phone speaking to Anandha Raj. While on the other side Jyothika and Revathy exited from police vans.
Panam Potadhu, Nadichadhu- to be trending terminologies
Jyothika also spelled out popular superstar movies like Baasha, Kabali and Kaala. Overall the trailer hinted us that the movie is a comedy oriented action film. Revathy and Jyothika paired up for the first time, and both the iconic actors have their own set of the fan base.
Revathy recently played a district collector role in Keni and Jyothika as a school principal in Raatchasi. The School Principal role has earned her a very popular name. This movie directed by Kalyan and produced by Surya's 2D entertainment.
It was new in the trailer to see the translated versions of producers and actors in Tamil like (panam potadhu 2D entertainment Surya), nadichadhu (Jyothika) etc.
The flick of other characters
The 2-minute edit is of great fun, and the duo cladded in different costumes gives us no hint of their real roles in the movie. We have been obviated with their social work of helping children. Jyotika's brave stunt role and silambattam put us in awe.
Samuthirakani flashed once in the trailer. Yogibabu's comedy streaked two seconds. The trailer too showed Motta Rajendran flexing his muscles. The music director of the film is Vishal Chandrasekhar. The movie launched in February 2019.
Future projects of the duo
Revathi has Azhiyatha Kolangal project in her kitty. Jyotika has Jeethu Joseph project in hand in which she stars along with Karthi. Her bag also has "Pon Magal Vandhal" movie debut directed by JJ Fredrick.
There is news in air that she might join hands with Aramm director Gopi Nainar for a new project.