Jackpot Tamil Movie Review: Didnt Steal the Show Managed Average-Run
Anusha Sathish (Author)
Published Date :

Aug 02, 2019 17:27 IST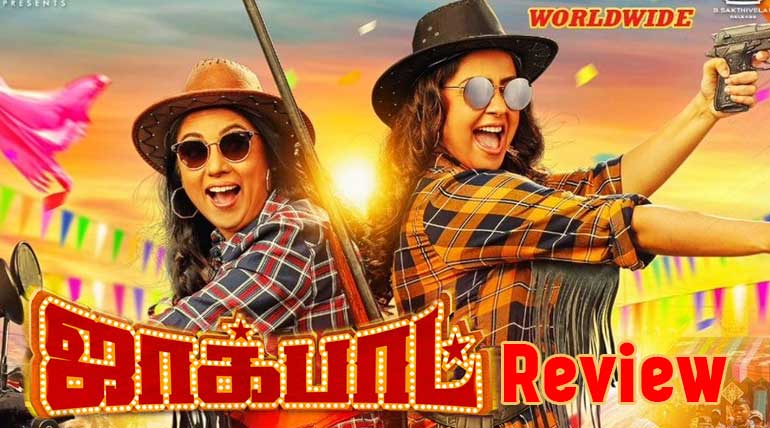 The jackpot was the talk of the town for some-time and frequented online news channels. But the movie failed to walk the talk, and the expectations are not met. The duo (Jyotika and Revathi) managed to get the viewer base on the first day, and the movie was entirely plotted around a vessel which is inexhaustible (usually in a slang we say in Tamil Akshaya Pathiram). IS the enjoyment and fun meant for males only? All atrocities and notoriety are getting recognized funnily in many films, but unfortunately, those movies are normal hero based. This movie has taken that traction but could have been done better. Masha (Revathi) is the good mother of Akshaya (Jyotika). They both persuade people and cheat for their goodness. Overall with their deeds, they enjoy their life to the fullest. One day they lock horns with one of the cops for which they would be put in Jail.
Inside Jail, they happen to meet an old lady and get to know about the inexhaustible vessel that was buried by her in a politician's house. From then on, the entire movie was revolving around the two leads fetching the vessel. Director Kalyaan has given amazing heroic roles to Jyotika to make her look thunderous on the screen. Jyotika flawlessly performed on-screen with an applauding entry and fight scenes. Comedy track too suited well but Revathi was too old for the attire and role, but she managed spic and span. There was a one-liner climax which narrated the Revathi-Jyotika relationship; felt like salt was missing in the delicious dish.
Anandaraj should be awarded the showstopper of the movie with his impeccable acting. The director has extracted from him the best of the best. He has been given a dual role, and both were equally played exorbitantly. His combination with Thangadurai and Kingsley brings the roof down. Motta Rajendran and Yogi Babu fared okay with repeated comedies. A feel embraces that after a long time a comedy track with zero double entendre was seen. "Emotions with a pinch of more masalas blended with comedy track" could have pushed the movie well beyond the expectations which was a great miss in the movie.