Jagame Thandhiram Review: Movie Stars With Fire And Action
Sophia Loren (Author)
Published Date :

Jun 19, 2021 05:12 IST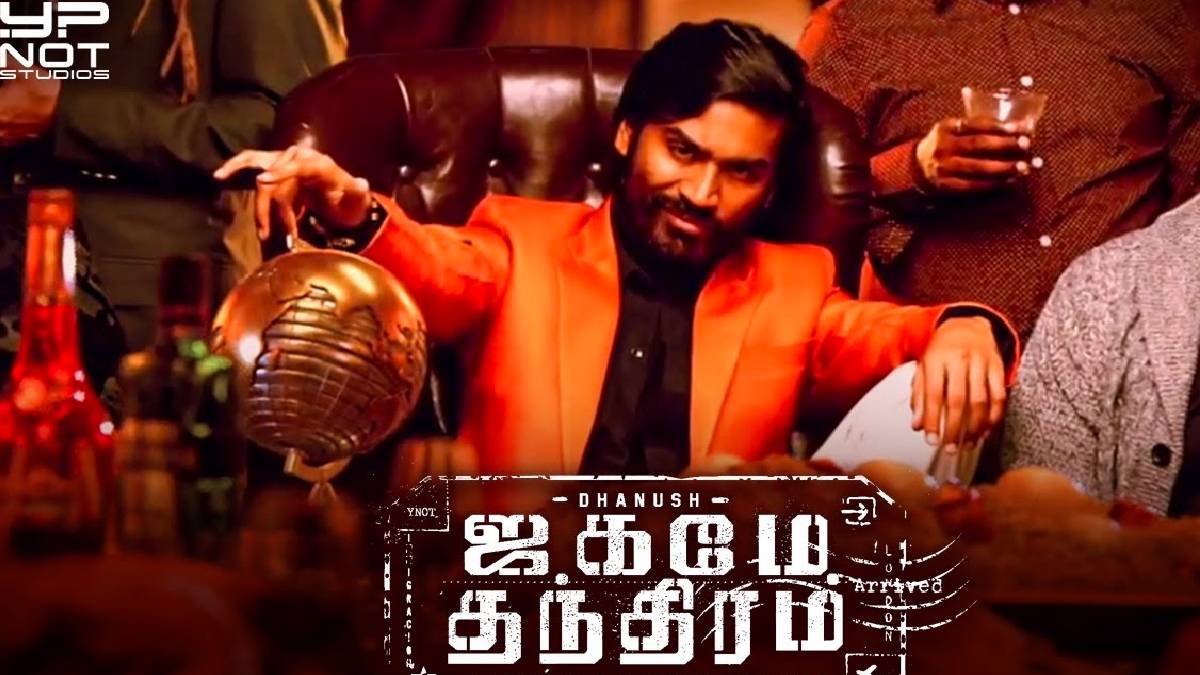 Jagame Thandhiram an action thriller film written and directed by Karthik Subbaraj and produced by S. Sashikanth and Chakravarthy Ramachandra of Y NOT Studios Reliance Entertainment. Although it seems like a regular Don story in the opening scenes, Director Karthik Subbaraj has touched some areas beyond that.
Director Karthik Subbaraj is trying to tell the story of Elam politics and anti-racism. The film moves with Dhanush, a small rowdy in Madurai, enters the Cold War between two gangster gangs in London. But the film tangles with boredom with a weak screenplay and logic slips.
Suruli owns a Porotta shop in Madurai as a rowdy. He suddenly gets the chance to go to London by his friend. The 'Jagame Thandhiram' story is about what, why, how, he get there, what happened, whether his life got a meaning substances or not.
Karthik Subbaraj is back with his usual template as gangsters who come crawling with Madurai vernacular, gun and aruval. Many of the scenes and camera angles in the film are reminiscent of his previous films. And watching the movie on OTT makes them feel like looking back at many of his old movies.
Karthik Subbaraj, who has been directing gangster films that continue to be violent, this time seeks to talk more about racist politics and the problem of immigrants.
But there are many problems in the politics of the film, from comparing the background of the Sri Lankan war with those of London to the portrayal of the Elamites in London as being associated with any movement.
The characters have made use of the screen space very well. It is a perfect visual treat as the filmmaking is intense. The cinematography of this film must be appreciated for its amazing outcome. The screening has come out so good, with long and short shots.
The songs have already reached their hits on Youtube, which is still trending among the youngsters. Dhanush has nailed his acting as he always does. His moves and turns with shoots and fire are stunning with action. This film seems to be celebrated by the Dhanush Fans.
The logic breaks in some places, but Karthik Subbaraj has addressed it in the scenery. The Suruli character is a perfect match for Dhanush. Much of the film is dull, and in the end, the surface is kind of editing. Dhanush can be seen as Rajini's image in many places by his acting.
A good role is given to Joju George in this film. He has acted well throughout the film. But, it cannot be said that this is a suitable debut film in Tamil. Aishwarya Lakshmi has also given the required acting to the scenes.
He speaks Sri Lankan Tamil well in his own voice. The language spoken by the characters has come out so well. The comments on this film are mostly positive than negative. It was the most expected film by the fans of Dhanush and Karthik Subbaraj.