ads
Jumanji: The Next Level Tamil Review
Gokul Saravanan (Author)
Published Date :

Dec 13, 2019 12:18 IST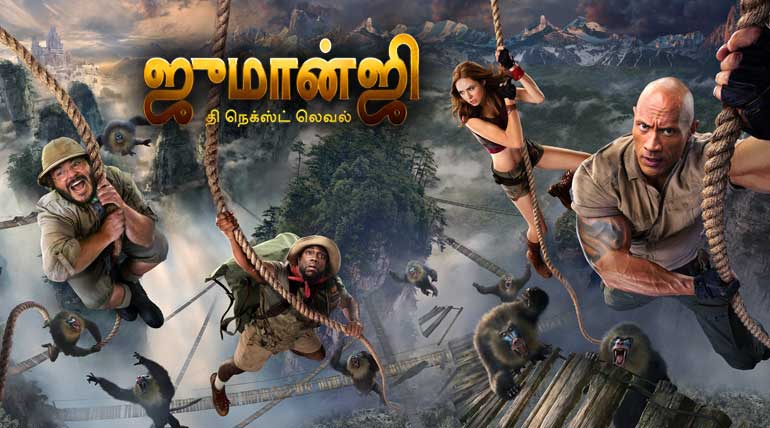 Jumanji: The Next Level may satisfy those who have not watched the first part: Overall, the Jumanji: The Next Level is truly the next level in CGI and laughs. However, the adventure game lacks levels and the Game (movie) reaches the end within a few levels.
While the movie was already out and screening in its home countries from last week, Indian dubbed versions of the Jumanji; The Next Level had only released yesterday. Jumanji series has a lot of fan base in India since its first handshake in 1995 that holds Robin Williams and Kisten Dunst as leads. As a pleasant surprise, this new movie roped in a character from the Jumanji 1995 for a short cameo to honor the original script.
The plot of The Next Level starts like a ritual, which is an unexpected entry to the game. However, real-life characters won't get the chance to choose their avatars, unlike the previous version. Just, for example, Dr. Bravestone's avatar (usually played by Spencer) has been played by Spencer's Grandpa!
The Jumanji is at stake when the player enters the game. So, the players are tasked to complete each level to save Jumanji and their lives. Tamil dub has given sensational humor to the film. While considering this movie is for kids, the Tamil dialogue writer should have been more careful with words. So, be prepared to close your kids' eyes in some scenes as you can smell it from far away.
The first half of the movie goes off with only one adventure chasing scene in a desert. But, that doesn't go off amaze the new audience. Indeed, after the character changeover, Bravestone and Franklin Finbar game avatars are the most loved in the first half. In the second half, everything goes off the control. There is no twist in the climax as one can easily predict the upcoming scene without any hesitation. But, it is worth a one-time watch.
There is much laughter linked to reference scenes of previous Jumanji. This movie may surprise those who haven't yet watched the first part. For those who have watched the previous chapters of Jumanji, there are nostalgic peals of laughter in The Next Level.