ads
Kamal Hassan Back in Cinema? Then What About His Political Status?
Karthik Rajkumar (Author)
Published Date :

May 13, 2019 17:20 IST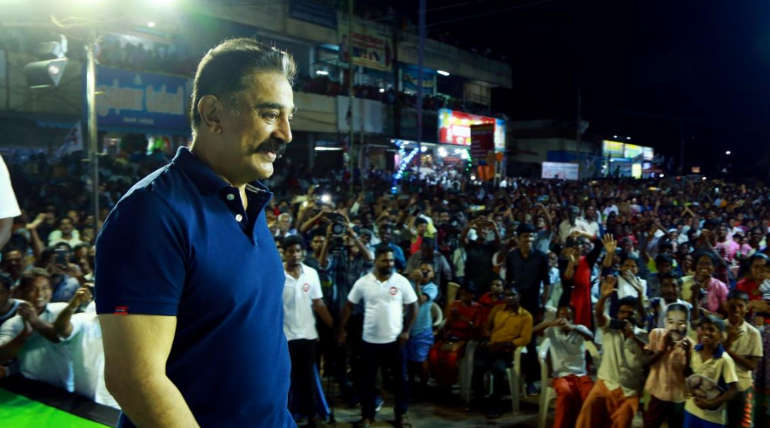 Kamal Hassan Back in Cinema? In the absence of two great leaders like Dr M. Karunanidhi and Ms Jayalalitha, witnessing the events of the last few years in the Tamil Nadu state, it clearly shows the lack of good leadership. In the meantime, in February 2018, a new party called "Makkal Neethi Mayyam" was started by Dr Kamal Hassan in an effort to make his party's presence and show his party's influence in the All India Parliamentary Elections 2019.
Kamal Haasan has made conferences in front of college students and the general public as he is more focussed on gathering the votes of Youth that are very crucial in this election. Youth seems to be fascinated by his style of speech and his approach towards politics. The actor turned politician insisted on the backdrops of the running Government in the state and wanted to change the political scenario to bring betterment in State Administration and Politics.
Consequently, he received "Torch Light" as his party's election symbol. Without a coalition with any other party, he has fielded candidates in all the 40 constituencies of Tamil Nadu State. Also, alone he has faced the mid-term elections for the legislature in a similar manner. Would he get the support of young people as desired? Anyhow, we would come to know only after the outcome of the election results.
However, Political analysts have suggested that actor Kamal Hassan has been possessing a huge fan base on his side from the 1970s to till date. So, he would get a considerable and notable amount of Vote share in these elections.
After the start of the party, when queried about his further acting in the cinema field, he said that "Indian 2" would be his last film. When asked about his views regarding the burning social issues in the Tamil Nadu state, Rajini said, "I can answer your questions when I am a full-time politician". Rajini's such comments and replies were much criticised in social media. But, contrary to this, Kamal's decision of full-time political entry was much complemented and it has been the buzz among the political leaders at that time.
According to the recent buzz from Tamil film industry, it is said that Lyca Productions has come out of the "Indian2" project. Meantime, until the problems of Indian 2 get rectified, it would be apt to start and work for "Thevar Magan 2". The initial level activities of the movie seem to be in full swing.
In 1992, "Thevar Magan" was the biggest milestone in Kamal Hassan cinema career. In the role of Sakthivel, the "funk" haired man was the talk and trendsetter at that time. Nadigar Thilagam Shivaji's character is noteworthy in the film. Kamal Hassan has faced serious controversies for this movie as the whole movie was focused on a particular community.
It is also to be noted that Kamal Hassan has already faced an issue for a movie's title named 'Virumandi'. Following this, it is unpredictable to the say the kind of issues that are going to rise for "Devaramaan 2". Since Kamal is now a leader of the party, his political influence would help in dealing with such issues if arises.
Kamal, who claimed that the "Indian 2" movie would be his last one is now suspected to involve in the movie "Devaramagan 2" and may step again in the cinema.
Kamal Hassan Back in Cinema? Then What About His Political Status?