Kavin Influencing Public Against Sakshi by His Personal View in Game Play in Bigg Boss Tamil House
Anusha Sathish (Author)
Published Date :

Aug 08, 2019 07:50 IST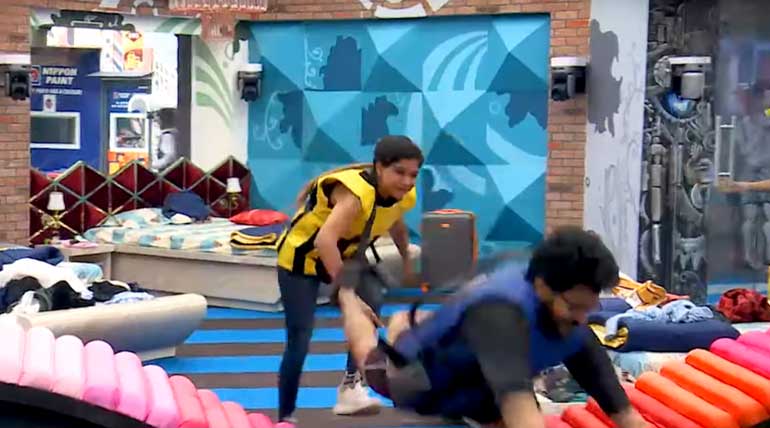 Bigg Boss Tamil season 3 has started jovially today with games and gatherings. Housemates are made teams with two members each. The game was going on enthusiastically. It was Sakshi and Losliya paired up as a team. Cheran and Kavin also formed a team. There will be a game coin who takes that and pass to a team member and stick the coin at the back of every member. Whoever gets that will, in turn, take the coin and chase someone else. It was looking very funny. Sakshi was chasing Kavin as part of the team game. Kavin slipped and fell off. Sakshi and Losliya immediately showed concern towards him and ensured he was alright
The game was at the tip end where Bigg Boss announced that whichever team had the game coin at the end of the game would tend to lose 50% of their previous game points. The coin was with Cheran and Kavin and Cheran team lost 50% points. Cheran laid exhausted and was immediately attended by housemates.
Now the spark came where Kavin was discussing with Sandy that whether he slipped off or Sakshi wantedly pushed him. He also said he felt someone was pushing from the backside and immediately he fell off. He asked, was that a trick play from Sakshi? But this kind of thinking irritated onlookers as it was a clear paly and Sakshi didn't have any motive.
Is it possible to hate a person with whom one was very much attached? If Kavin was able to hate and showed all negative vibes towards Sakshi, then a question arises, Was he really in (love or deep friendship however they name)? Now the audience is developing a little hatredness towards Kavin. Overall the episode went well with not much controversies as it will usually have. Who would get eliminated this week is Million dollar question lingering in mind?