Bigg Boss 3 Tamil: Losliya Father Expressing Anger Towards Her Love with Kavin
Anusha Sathish (Author)
Published Date :

Sep 11, 2019 15:23 IST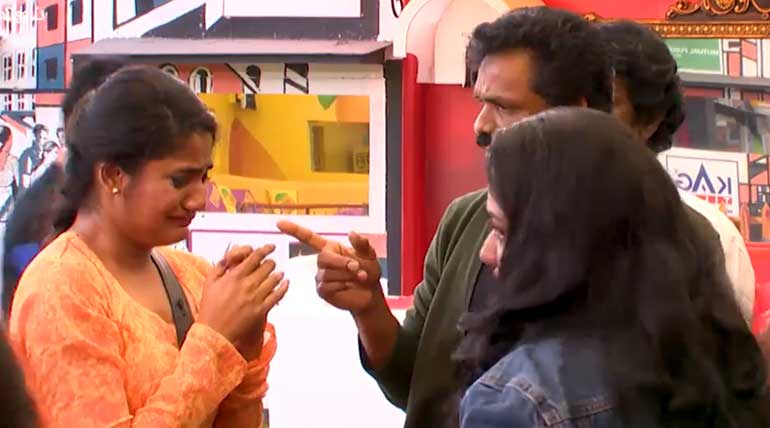 Bigg Boss 3 Tamil Family time in House becomes intense with Losliya's father expressing anger towards her love: Bigg Boss 3 Tamil fantastic emotional time is on now. Families of the contestants visit them and today Losliya's father steps in. Kavin-Losliya relationship is de-facto understood as love.
Even last week, Cheran was asking Kavin not to force her on any relationship matter. Within a house in hundred days with no options left except to talk with each other will kindle immature activities. The age factor adds fuel to this loneliness, and these kinds of feelings pop up.
We are witnessing this in the previous two seasons of Bigg Boss 3 Tamil as well. Contestants in the current house would also have seen these plays. But somehow everybody becomes a prey for temporary emotions and ruin the permanent happiness in life.
Now, Losliya's father appears very furious, asking Losliya, "Did I bring you up this way? Have you taken part in this program to do all these grimy activities? What did you say when you got this chance? Have you forgotten everything?" Cheran was taking Losliya's Father inside the Bigg Boss 3 Tamil House, and Losliya looks crying behind him.
Kavin was also looking confused and frozen by his words. It is a common expression by the girl's father, especially when he sees that her daughter is a trick played.
Like the audience, he also would have confused with Kavin's trustworthiness. Between Sakshi also said in the forum last week before Kamal, "Good that Kavin, I sensed the toxicity in the relationship. Right time, I got off from the house as well. I really thank god for all that happened," for which Kavin nodded his head and responded thanks.
Of late Losliya's activities are notorious. The way she behaved to Mohan Vaidya, the voice she raises against people etc. She has exhibited herself a soft-spoken, "never-minded" attitude girl.
Suddenly the traits which are unexpected unleashes which gives a surprising shock to the audience. In fact, there is speculation amongst the audience that, had she not been the captain this week, he would have been everyone's choice like Vanitha. But again, nothing can be predicted in Big Boss. Let us watch the full show today to get more information.