Losliya - Kavin affection seems to cost the camaraderie between the contestants
Vijayan Sankar (Author)
Published Date :

Sep 21, 2019 10:01 IST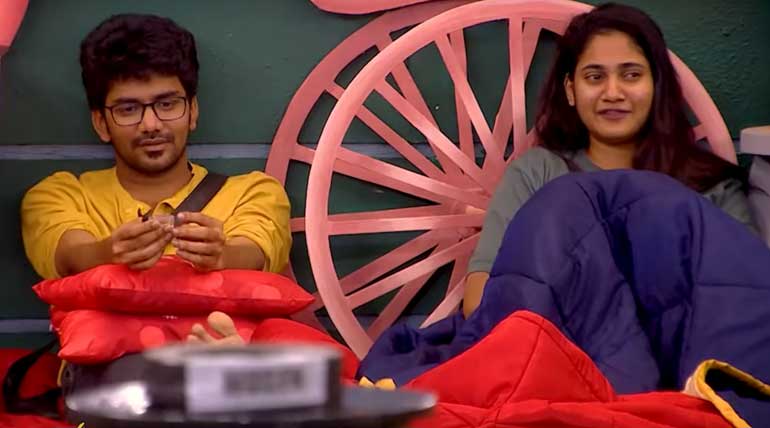 Is Losliya playing spoilsport to the friendship between Kavin and Sandy master: Losliya - Kavin affection seems to cost the camaraderie between the contestants in bigg boss 3 Tamil show house. The most affected are the Kavin - Sandy master friendship. Yesterday Sandy was crying to bigg boss asking him to be let off from the house. It is due to doubts raised by Losliya and also in some way by Kavin on their friendship. But Kamal, as usual, showed his brilliance to console him and wanted him to continue what he is doing now in the house.
Losliya questioning Sandy like that of an envying partner who spoils the friendship: Sandy master never hid his friendship with Kavin all through the last 88 days of the bigg boss 3 Tamil show. Many may even doubt, it could be the tactic to gain the sympathy of the audience and also the much-needed votes. But unlike Tharshan, or Mugen who are clear in their intention to win the bigg boss 3 Tamil show, he continuously says that he is not in the race for it.
But he wants to be in the last four of the ticket finale. He also indirectly wants Kavin to win the show. But when Losliya accuses him of showing fake friendship by not helping Kavin in the tasks, he seems to be hurt much. But after Kamal consoling him and talking with Kavin, he seems to be normal.
What will become Losliya-Kavin- Sandy master relationship in bigg boss 3 Tamil show: Only 11 days left for the bigg boss 3 Tamil show to come to a grand finale. The Sandy issue of being hurt is now highlighted more on the bigg boss show. It may be another tactic of the bigg boss to increase the TRP. But the affection showed by Sandy master seems to be true. But how it will pan out in the last days of bigg boss 3 Tamil show will be an interesting watch for the audience.
Part 3/3 pic.twitter.com/CXDDXZVPVK

— JK (@simpleguyjk) September 21, 2019
&nbsp
Tags :&nbsp
bigg boss ticket to finale winner
,
Bigg Boss Task activities
,
Bigg Boss Tamil Vote
,
Bigg Boss-Kavin gets majority
,
Bigg Boss Tamil Contestants Missed Call Numbers
,
bigg boss 3 tamil contestant Sandy
,
bigg boss contestant kavin
,
bigg boss Tamil season 3 latest update
,
Bigg Boss 3 Tamil
,
Bigg Boss 3 Tamil Vijay Tv
,
Bigg Boss Tamil 3
,
bigg boss tamil vote result
,
bigg boss tamil vote count
,
bigg boss contestant Losliya