ads
Simbu surrender to god and Now Maanaadu movie begins
Vijayan Sankar (Author)
Published Date :

Nov 06, 2019 12:07 IST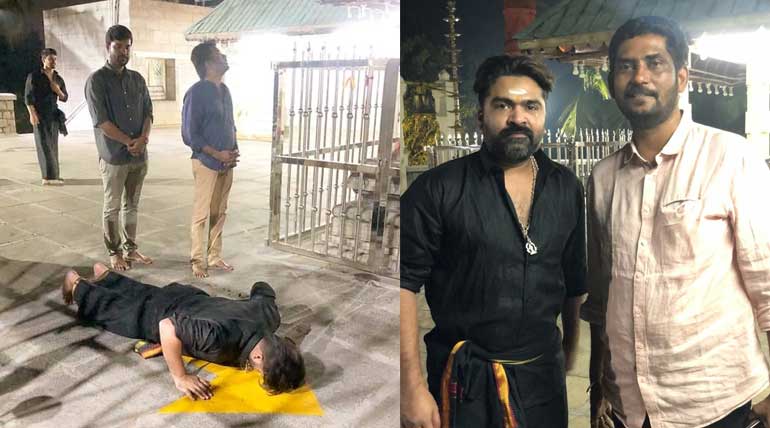 STR's Maanaadu to start shoot soon confirms its producer Suresh Kamatchi. It is big news for his fans, but will the movie be completed is the question. It is because of Simbu's track record for the past few years. Brought into the Tamil film industry as the next superstar by his father T.Rajendar, Simbu had his hits and a lot of dropouts.
Though he cooperated well with Mani Rathnam for Chekka Sivantha Vanam, he is facing only complaints from many producers for the past few years. A charge is filed by Gnanavel Raja in the film council for his non-cooperation for acting in the movie Mufti after the first schedule. Now with rumored intervention of his mother Usha Rajendar, he is back in Venkat Prabhu's Maanaadu movie.
Is rising star STR fading away?
At the age of 6, Simbu sang I am a little star, aven nan superstar in his father T Rajendar's movie, Samsara Sangeetham, in 1989. Everyone was happy and waiting for Simbu's entry as a star in the Tamil cinema. He was rumored as the next Kamal and Rajni and entered as a hero in 2002 in his father's movie Kadhal Azivathillai.
In the last 17 years, he has acted in many hit films. But except for a few others are not to so good at the box office, and many others were controversial like Maanaadu and Mufti. All this raises questions of this talented star fading away into the oblivion.
Fans the significant support of STR
In spite of all his ups and downs, STR's fans are his strength. But he even confuses them with videos for celebrating with milk pouring over his pictures. In one, he says that he wants them to stop it and immediately reverses it to tell to do it more like never before for Vantha Rajavathaan Varuven by Sundar C, in February.
STR's biggest hit so far was his 2010 movie Vinnai Thandi Varuvaya with Gautham Menon and the recent Chekka Sivantha Vanam. Though Vanam, Manmadhan, and Kovil were hit, it is not to the stature of these two movies. But there is a long list of producers and movies dropped by him in these 17 years.
Many producers have stories to tell about his atrocities in the sets and also not coming to them. With millions pumped into movies and hardship of releasing them, it is the stars like Simbu to help the producers. But he is becoming more like Karthick a few years back to leave producers on the dock.
Let's hope for the sake of STR and his fans that Maanaadu movie continues shooting without any problems and get released and also Mufti to bring STR, as per the desire of his fans.