Madan Gowri Bathroom Song: Mattuthavani to Manhattan Top Trending
Sophia Loren (Author)
Published Date :

Jul 29, 2021 15:38 IST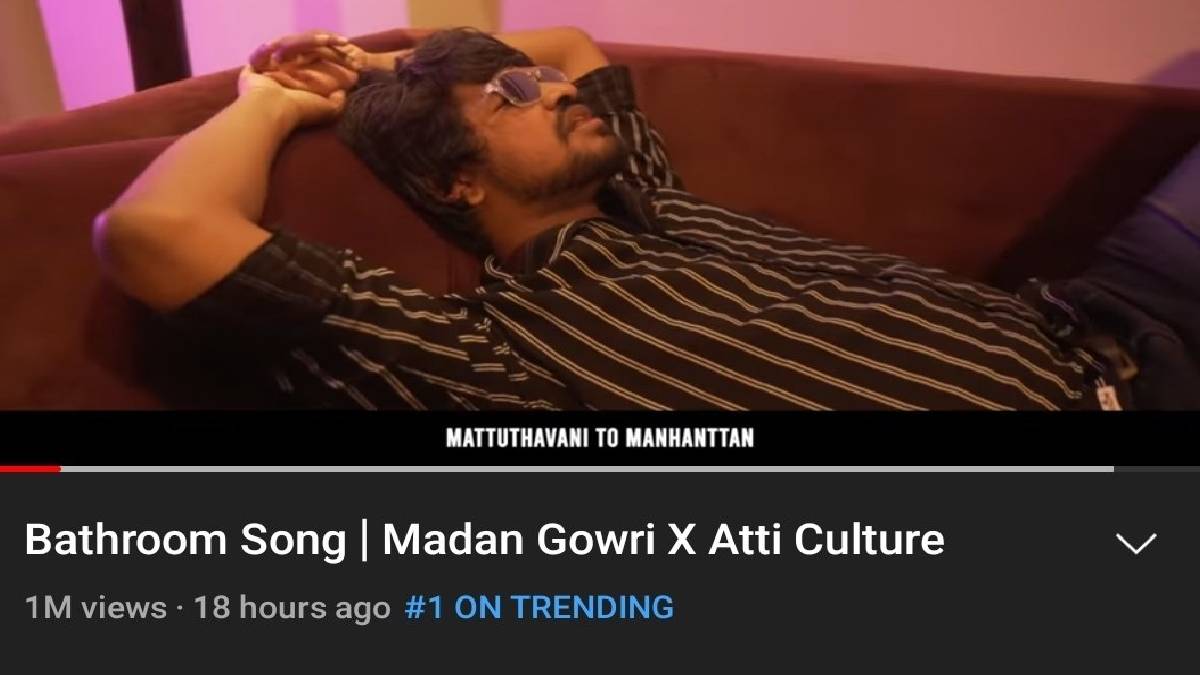 When looking in for the review of Madan Gowri's Bathroom song, here comes the note that the song is the number one trending song on Youtube. The song has almost reached Mattuthavani to Manhattan with good comments and continuous hits of likes.
It is said that the song is written and sung in a single night which was taken as a challenge. And now the challenge is accepted and reached the fans and grabbed the viewer's attention. People have different dimensions of thinking, and it is their freedom that cannot be questioned why.
Madan Gowri's bathroom song has reached the viewers only after listening to the song for the second because, for the first time, the dance and beath will take you to enjoy the music. When the song is heard for the first time, the only lyrics that you might have known will be "Aye", which often comes in the song.
The theme of this Bathroom song is mixed up with young, family, school, etc. An exact theme in this song is hard to find as it discusses businessmen like Elon, Warren Buffett, school, headmaster, love, family time, amazon prime in the lyrics. To be honest, the songs can be enjoyed as it is rhyming and the repetitions are used.
The setting of this song is just a room that seems like a bachelor room with boys who are enjoying their time being together. The lightings that they have used is super cool. And to note, no alcohols nor any other drugs are projected in the song. The tune and the lyrics give some kind of sense which holds a meaning. The song lyrics might seems so funny, but they converted what the lyric was all about. The most interesting part of the song is the introduction title, which must be mentioned with no doubt.
The credit hards hold the names of Mark Zuckerberg, Elon Musk, Rajinikanth, Jack Dorsey, Larry Page, Mukesh Ambani, Sundar Pichai, Ex-Gfs, God, Kim- Jong-Un. Last but the least, they mention 'Miss You Trump-MG.'
The dance and moves of Madan Gowri are cool as it perfectly matches the lyrics and the tune. It is for the first time Mg fans are watching their hero dance. Even Madan Gowri said that he is dancing for the first time. The most unexpected clip was the end of the song, where Madan Gowri pops with his dialogue which was going viral.
The bathroom song was sung by Madan Gowri, ofRo, Asal Kolaar, under the direction of Ken Royson and the assistant director Aashan Kishore. The camera credit goes to Arul Cool & Diwakar. Lyrics are handled by Asal Kolaar, Durai, ofRo, Madan Gowri, with the music of ofRo.