Madhumitha came out from Bigg Boss Tamil 3 House, Elimination or Suicide Attempt?
Vijayan Sankar (Author)
Published Date :

Aug 17, 2019 17:20 IST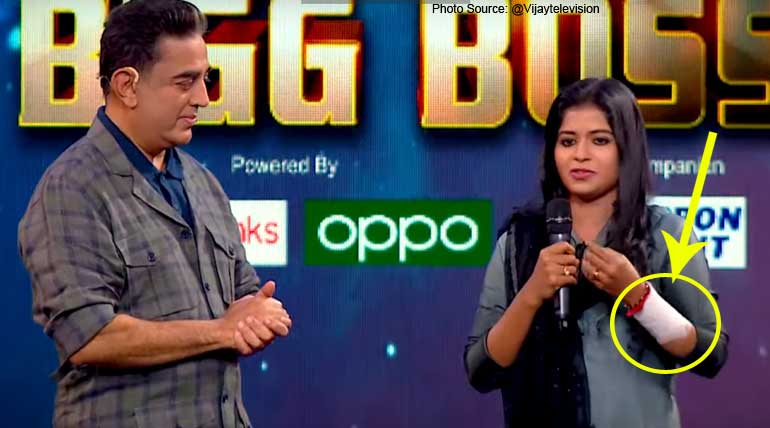 Physical Violence or Madhumitha attempts suicides to leave big boss 3 Tamil show?
Today many unprecedented events happened in bigg boss 3 Tamil reality show. Since it is called reality, a real suicide attempt must have happened today in bigg boss house or physical violence. The first promo today only confirms the suicide attempt of Madhu. Madhu speaks to Kamal with a smiling face and a bandage over her wrist. Kamal pats her on her shoulders and congratulates her for her sacrifice. But with the usual Kamal touch, he says that the sacrifice if done in Ahimsa way could have been more appreciated.
What happened to Madhumitha in the last few days in bigg boss 3 Tamil house:
In the last few days, the subtle Madhumitha was hyperactive. It was after the Frooti caller who criticized her for not being herself after the first two weeks. It was true that after the initial hiccups, she was comfortable in the bigg boss 3 house without any elimination and issues. But after the call, Madhumitha for some reason became hyperactive and wanted her presence to be felt to the contestants and audiences. This change in her attitude and behaviour has resulted in today's events.
What could have happened to Madhumitha leave with a suicide attempt today?
In the last few days, due to her hyperactivity, she questioned many contestants. She was bombarded by the boys of the house. She blatantly accused Kavin of using four girls in the bigg boss house. Everyone was shocked at it and the most was Losliya. She came in support of Kavin and was seen blasting Madhumitha. She also had heated arguments with other contestants.
What could have pushed Madhu to attempt suicide?
The entry of Kasthuri and importantly that of her hated contestant Vanitha back into the show could have also had its impact on Madhu. Her anger against Kavin and uttering of such words against him which indirectly degraded the girls in the show and the show itself among the audience. Hence realizing her mistake she may have done this issue today.
Anyhow as Kamal said, she gave away her chance of winning in a platter and this selfless act could have been more appreciated if it would have been without violence. Stay tuned today at 9:30 to watch what happened to Madhu in Vijay TV big boss 3 tamil show.