Madhumitha husband, Moses, questions Vijay TV for showing him to be participating in its grand finale
Vijayan Sankar (Author)
Published Date :

Oct 08, 2019 19:44 IST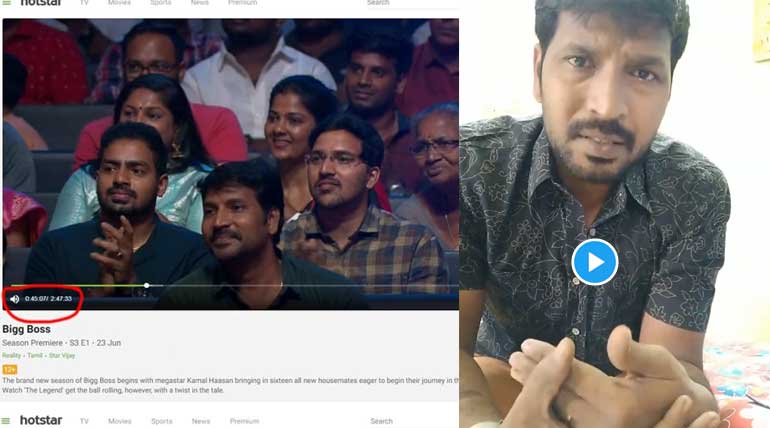 Madhumitha's husband, Moses, questions Vijay TV for showing him to be participating in its grand finale: The controversies of bigg boss 3 Tamil show never seem to end even after the end of the show on 6th October. Moses, the husband of the evicted contestant Madhumitha, has now posted a video and questions Vijay TV. In the said clipping of Vijay TV, there is Moses among the crowd, and he claims that it was the grand finale footage. He questions the Vijay TV that without him not invited or participated in the final, how could they show him among the audience.
Madhumitha and bigg boss 3 Tamil Show: Comedy actress Madhumitha was one of the contestants of the bigg boss 3 Tamil show. From day one, she was blistered by other contestants, and also nominated en masse on the first eviction week. But only with the support of the public she was saved. She then stopped meddling with other contestants' activities in the name of culture, worship, dressing, and many issues for some time.
Again, when she started to do it again, she was not liked by many contestants. And during a specific task, sources say controversy about Tamil Nadu and Karnataka. Vijay TV did not air her speech on the task. Sherin highly criticized her remarks on the other state, which is her native place. In the house, everyone is contestants irrespective of their state or other things. But due to the issue, she cut her hand and attempted to commit suicide. Since it was against the big boss rules, she was evicted.
Madhumitha PRESS meets outside: On the next day of her eviction, she held a PRESS conference along with her husband Moses, mother, and other relatives. She confirmed receiving her payment and also of the assurance for the remaining amount from Vijay TV.
But she said that Vijay TV for no reason had given a complaint against her in Guindy police station. Her husband seemed to be behind the PRESS meet. But Vijay TV did not take any action on their complaint of her threatening to commit suicide if not receive the remaining amount or against the PRESS meet. Then she went to give interviews even during the remaining days of bigg boss 3 Tamil show, which is against the contract signed by her. Hence she was not included in the other activities of bigg boss for those days. Even Meera Mithun was invited back to the bigg boss 3 house, but not Madhumitha.
Moses is saying the truth or Vijay TV for publicity showed him to be part of the grand finale audience is for verification to know the truth. But one thing is sure that the bgig boss Tamil show's popularity and everyone wants to have a piece of cake from it.
@madhumithamoses #BigBossTamil3 Finals ஏன் நான் கலந்து கொண்டதாக காட்டினார்கள்? @vijaytelevision #Madhumitha pic.twitter.com/zWkItzD5BT

— madhumitha moses (@madhumithamoses) October 8, 2019