Madhumitha Says Vijay TV Gave False Complaint Against Her
Vijayan Sankar (Author)
Published Date :

Aug 23, 2019 08:36 IST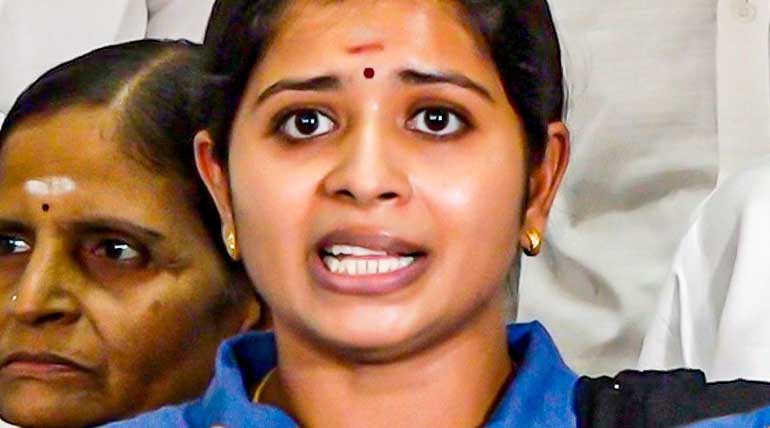 Madhumitha says Vijay TV gave false complaint against her: Yesterday on 22nd August, Madhumitha held a press meet to express her anguish over the complaint filed by the Vijay TV. On 21st August Vijay TV complained against Madhumitha's threat to commit suicide if not received the remaining payment shortly. She told the PRESS that though she is still under the terms and conditions of Vijay TV, though she is sad and deeply affected. The main reason she says is because of not telecasting the halo app clipping of her controversial speech. Madhu only raised hopes to settle the issue amicably by Vijay TV and its host Kamal Hassan.
Madhu to express her anguish and mental depression met the PRESS yesterday:
Bigg Boss fame Madhumitha suddenly met the PRESS yesterday to express her anguish on the false complaint by Vijay TV in the Guindy police station. She also said she is worried about the particular video, not telecasted, and she and her family are undergoing a lot of stress because of it. Though the PRESS asked many questions against the Vijay TV and bigg boss 3 Tamil show, Madhu was careful enough to not even utter a word against them.
Why Bigg Boss fame Madhu meets PRESS suddenly?
Any contestant entering into the big boss house should sign various agreements regarding their activities for the next 110 days. They will be paid, and no legal action is taken only if they adhere strictly to the terms and conditions of it. In the controversial task of halo app, Madhu's part was not telecasted. It was due to her comment on Karnataka.
As per the Channel's terms and conditions, they have the right to telecast or not any part of the house proceedings. The matter should have ended there, but Sherin who hails from Karnataka raised the issue continues to make Madhu take the worst decision and sent out of the house. The complaint and no response to Madhu's queries regarding it by the Channel made her to meet the PRESS yesterday.
What did Madhu say to the PRESS and what are its future consequences?
Though still committed to the Channel she only said that she is worried about the Channel not showing the particular video clip. Also, she said she and her family are mentally depressed. She seems to be under the influence of her husband during the press meet. It seems that she may file a case against the Channel for the damages in the future. Or it may bring out an amicable truce of the payment made soon, and the issue settled. Or it may also lead to further legal proceedings by the Vijay TV channel.
It is wise for all concerned to settle the issue amicably rather than using it for personal monetary gains and TRP.