Mani Ratnam's Ponniyin Selvan: New Poster And The Lead Character PS 1
Sophia Loren (Author)
Published Date :

Jul 20, 2021 10:20 IST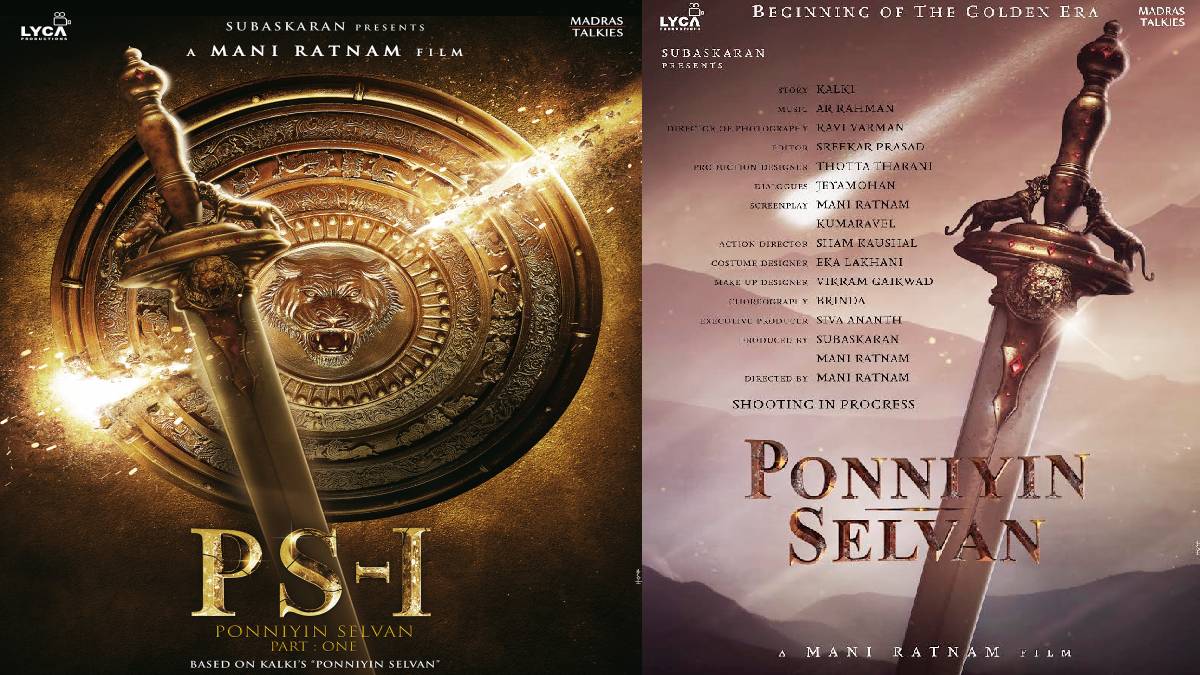 Kalki's historical novel Ponnin Selvan will never be an option for the reader; rather, it will be a priority when the book has been completely read. The epic writing of Kalki will take the readers to live life in the Chola Kingdom. The grand writing style and the descriptions of the characters and the settings are the key elements of the books.
The readers would have personally thought it would have been nice if the Ponniyin Selvan was visually screened. And finally, the dream of director Mani Ratnam has fulfilled the desires of Kalki fans. Now the first part of the Ponniyin Selvan poster is released by the film crew.
The first part of 'Ponniyin Selvan', directed by Mani Ratnam, will be released in 2022. The film wraps with many lead actors and actresses like Jayam Ravi, Karthi, Vikram, Aishwarya Rai, Aishwarya Lakshmi, Trisha, Sarathkumar, Riyaz Khan, Prabhu, Jayaram. Produced by Lyca and produced by Madras Talkies.
The characters are Vikram as Aditya Karikalan, Aishwarya Rai Bachchan as Nandhini and Mandakini Devi, Karthi as Vallavaraiyan Vandiyadevan, Jayam Ravi as Arulmozhi Varman aka Ponniyin Selvan, Trisha as Kundavai, Vikram Prabhu as Kandhamaran, Jayaram as Azhwarkadiyan Nambi, Prabhu as Anirudha Brahmarayar, Aishwarya Lekshmi as Poonguzhali, Sobhita Dhulipala as Vaanathi, R. Sarathkumar as Periya Pazhuvettarayar.
Following, R. Parthiban as Chinna Pazhuvettaraiyar aka Kalandhaka Kandan, Prakash Raj as Sundhara Chozhar, Rahman as Parthibendra Pallavan, Kishore as Ravi Dasan, Ashwin Kakumanu as Senthan Amudhan, Arjun Chidambaram as Madurandhagan, Nizhalgal Ravi as Kadambur Sambuvaraiyar, Riyaz Khan as Soman Sambhavan, Lal as Thirukovilur Mannan Malayaman, Mohan Raman as Kudanthai Jothidar, Balaji Sakthivel, Sara Arjun.
The cinematography of Ponniyin Selvan is taken over by Ravi Varman, who has already worked in Tamil films, namely Autograph, Anniyan, Vettaiyaadu Vilaiyaadu, Dasavathaaram, Villu. And the music composition is handled by the legend A. R. Rahman. Since the film is an epic one, cinematography and music play a significant role. The music and the screen must take the viewers to the Chola Dynasty.
Only one poster was released before the shooting of Ponniyin Selvan began. No official poster has been released since then. In this case, the film crew has officially released the poster for the first part of 'Ponniyin Selvan'. It has also been announced that the film will be released in the year 2022.
The crew is currently engaged in outdoor filming while filming indoor scenes. Accordingly, the shooting of Ponniyin Selvan is presently underway in Pondicherry. The public is excited to see the shooting spot since the film holds fifteen lead characters who play the central role. The poster of the first part of the ponniyin selvan is celebrated with likes and shares. This epic journey is bounded by a massive level of expectations by the fan base as it is an epic drama played by charming and valour characters.