Mardaani 2 Review: Rani Mukerji Steels the Show
Sivaranjani Soundararaj (Author)
Published Date :

Dec 13, 2019 17:39 IST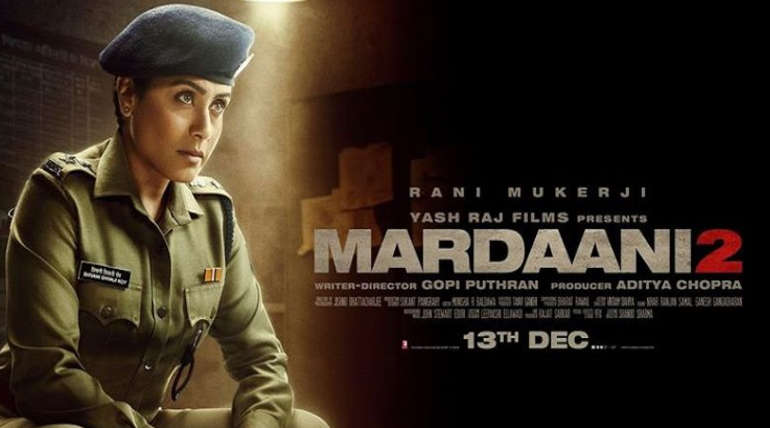 Mardaani 2 review: A must watch hard to digest plucky story: Rani Mukerji's Mardaani 2 sequel drives more gripping anecdotes concerning the 2014 sequel of Shivani Shivaji Roy Mardaani.The lead actress Rani Mukerji pulls off the original cop Shivani Roy flawlessly with her performance on-screen along with her responsibility to impersonate the sociable message through Mardaani 2.
Mardaani 2, directed by Gopi Puthran, runs the film with his intriguing screenplay and direction of the police officer Shivani Roy's untold story. The gritty drama hits worldwide today under the banner of Yash Raj films by Aditya Chopra.
The real story revolves around the cop Shivani Shivaji Roy (Rani Mukerji) and the young serial killer Sunny (Vishal Jethwa), and Gopi Puthran shot it by giving an energetic screenplay with a bias story of male atrocities in the nation. Though the film keeps low in men, steps the cause for gender equality in it as well.
Vishal Jeshwa, a Rajasthani young rapist, challenges the brave Shivani Roy to capture him with a note of his next nab details. The debutant Vishal proves himself with the antagonist role against valiant performer Rani Mukerji on the silver screen, setting his space in Bollywood. Though Vishal Jeshwa looks innocent, he steals the show with his dramatical exhibition of Sunny in Mardaani 2.
Without bending time for even an eye blink, Gopi Puthran sets Mardaani 2 as a gripping drama running behind the serial rapists who captured the notorious nabs around the country.
The challenging first half never failed to leap the audiences to think out of the box with a notable eagerness for the second part making the success of the director and crew more visible in the theatres. Rani Mukerji screens tough as protagonists cop with her action chasing the cunning, sadistic rapists Sunny.
The drama never needs the song list to go behind the screens, and the music director Anu Malik grasped the content-driven action history with his background scores rather than lyrical songs adding a plus to the blockbuster.
The thriller story gains more applause in the theatres for the smartness of Villain against the police officer, making the audiences to watch on the hot seat.
Hoping from the Mardaani 2 trailer, Gopi Puthran and Yash Raj films never failed to fulfill the audience expectation on the silver screens for this weekend as a societal delight. The hard-hitting story and Rani Mukerji's performance will surely make the box office soon, undoubtedly.