Housefull 4, Bigil and Kaithi are the major movies releasing in Diwali
Vijayan Sankar (Author)
Published Date :

Oct 25, 2019 08:43 IST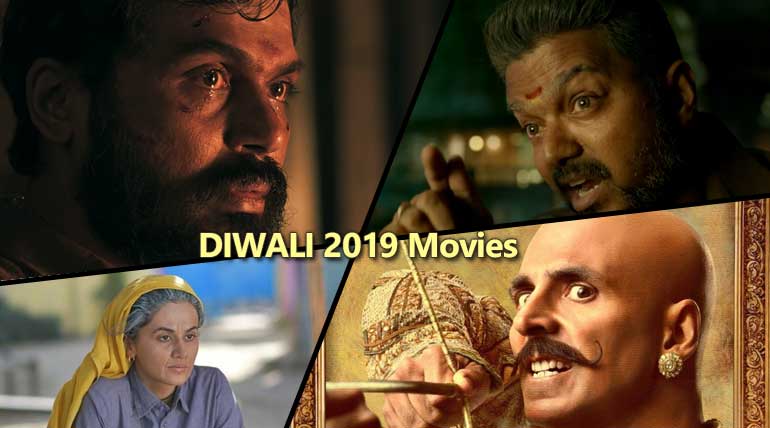 Major movies releasing for this Diwali: Festival of lights, Diwali is celebrated jubilantly across India and worldwide. Apart from performing pujas, eating sweets, wearing new dresses, and bursting crackers, it is the movies that make Diwali unique. It has become part of the tradition for youth, even in this digital world. This Diwali is no different. Continue reading to know about the Bollywood, Kollywood, and Tollywood movies on the eve of Diwali.
Tollywood movies for Diwali: Telugu people enjoy movies the most in India. It is a way of life for them, and it is in their blood to make them watch Telugu movies anywhere in the world. Next to Bollywood, Telugu film market is the biggest in India. Now with two states to release movies in more number of theaters, the Telugu film market is expanding to new horizons.
For this Diwali, apart from the remake of the two Tamil movies Bigil and Kaidi as Whistle and Khaidi, there are two more movies Thupaki Ramudu and Vanavasam.
Thupaki Ramudu is an action-comedy entertainer film directed By T Prabhakar and produced by Rasamayi Balakrishnan. The movie cast includes Bithiri Sathi and Priya are in the leading roles. Both the original Telugu films are a low budget with no big star cast and could make way for Khaidi and Whistle of Vijay to be the main attraction for the Telugu people this Diwali.
With the two major expected movies of Sye Raa Narasimha Reddy of Chiranjeevi and Prabha's Sahoo having already hit the screens, this Diwali, the Telugu people, have to celebrate with Kaidhi and Whistle only.
Bollywood for Diwali: For the most part of north India, there are more than four days of holidays for Diwali. Many big-budget movies hit the screen during Diwali to make it a festive fantasy for the north Indians. With Bollywood movies also having pan India audience and even internationally marketable, this Diwali, it is releasing Houseful 4, Made in China and Saandh Ki Aankh.
Housefull 4 is the fourth edition of the Houseful series from Nadiadwala productions. Directed by Farhad Samji, it is a story of three reincarnated lovers from 1419 to 2019 for 600 years. The concept is about Akshay Kumar madcap and ending with their wrong base pairs from previous births.
Made in China is directed by national award-winning Gujarati director Mikhil Musale. It is about a businessman played by Rajkummar Rao going to China for business prospects and finding that life gives second chances. It is a low budget comedy movie to make Hindi movie lovers laugh it out on Diwali.
Saandh Ki Aankh is an Anurag Kashyap production with Taapsee and Bhumi Pednekar as the old real-life shooters Chandro and Prakash Tomar in Bhaghpat. It is directed by Tushar Hiranandani and is a movie that could be critically acclaimed and could win international awards.
Diwali starts from tomorrow morning for moviegoers across India, and we wish them all to have happy Diwali with their favorite stars and movies.