Hiphop Tamizha Aadhi Upcoming movie Naan Sirithal First Look By Superstar Rajinikanth
Sivaranjani Soundararaj (Author)
Published Date :

Oct 08, 2019 16:20 IST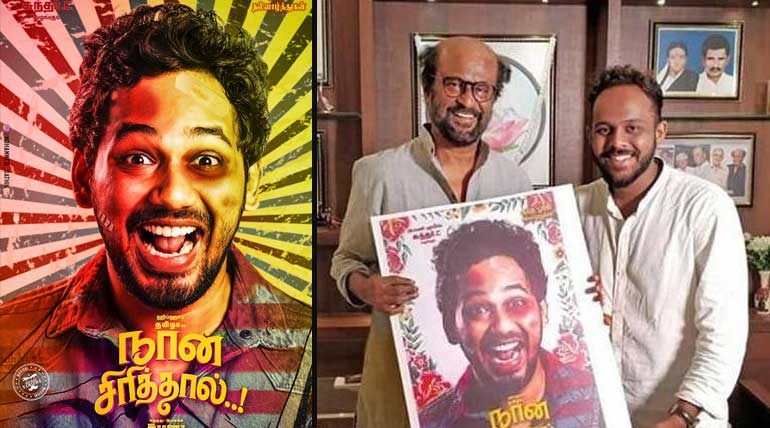 "Naan Sirithal" First Look By Superstar Rajinikanth: Hiphop Tamizha Aadhi is back with the announcement of his third film "Naan Sirithal". Aadhi music director cum actor is becoming an all-rounder in the film industry. Irrespective of pertained hard works Hiphop Tamizha has set a place for him in the Tamil Cinema.
After his debut and biography movie "Meesaya Murukku" blockbuster hit; He continued his acting career with his friends in the second film "Natpe Thunai" produced by Avni Movies. Hiphop Tamizha and friends are inseparable stated the previous movie crew. Aadhi hits a hat-trick with Avni movies for the genesis of his third movie, "Naan Sirithal".
Sundar.C and Hiphop Tamizha are known for mass entertainment combo with commercial hits. Avni Movies, with the new avatar of Aadhi produces Naan Sirithal. There is never a Sundar.C. movie without comedy, love, drama and commercial thriller.
Naan Sirithal movie directed by debutant Raana in the Tamil film industry. Raana is an Assistant Director of Shankar in 2pointO; He also the creator of famous short film Kekabeka. Raana debuts direction to attain leap and the board is on with 'Naan Sirithal'. The music for the drama is by Hiphop Tamizha Aadhi. The music label for Naan Sirithal picture is by ThinkMusic India.
Superstar Rajinikanth and Naan Sirithal Movie: Everyone knows that Superstar is a man of encouraging talents with his approval; He never fails to motivate the skillful ones. Raana director of Naan Sirithal is a die-hard Rajinikanth fan and proves in his first big entry.
Raana made his directorial debut pamphlet by making Superstar Rajinikanth unveil his journey with the First Look Poster of Naan Sirithal movie. The poster conveys Ayudha Pooja wishes with a picture of Aadhi laughing bizarre amid title and crew details.
Raana challenges with his tweet for the new angle of Hiphop Tamizha in Naan Sirithal movie. The first look of Naan Sirithal Aadhi with a bruised and happy face is going to burst with smile-sixers in theatres. Let us wait for Naan Sirithal to make us laugh.