Will Namma Veettu Pillai wave a comeback to Sivakarthikeyan?
Anusha Sathish (Author)
Published Date :

Sep 12, 2019 17:02 IST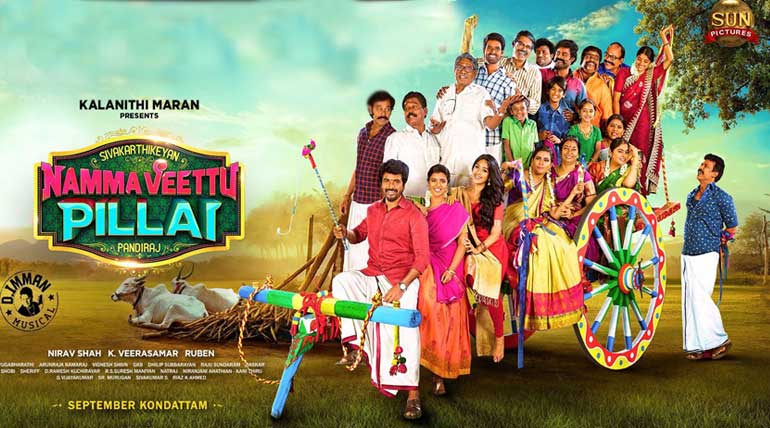 Sivakarthikeyan's last movies were not running successfully on screens. Seemaraja and Mr.Local both were disparaged as both the movies have not met the expectations. Sivakarthikeyan himself has voiced out that he saw "Namma Veettu Pillai" movie as his debut film and has given the best performance. With this movie, he wants to wave a come back on the screens. The audio launch has happened successfully with all the crew members showed up for the launch. The movie is expected to touch the brother-sister sentiment deeply as Aishwarya Rajesh is playing the sister role in this movie. Whatever the role may be, Aishwarya sculpts it the way it needs to be and looking forward the same with this role as well. She also told it is one of her best roles and anticipate the public to endorse the same.
Namma Veettu Pillai audio launch was very funny with Siva Karthikeyan's family. Media has made the moment very funny by asking Siva to sing a song about his wife and Aaradhana, his daughter, as usual, was spic and span on the screen. It was indeed a blend of embarrassment and sentiment which Siva tackled it cracking witty remarks bringing the roof down. "Yenga Annan Song" seeds the sentiment during first listen, and it made everybody walks through their sibling road. Other songs unkoodave porakkanum too has a good track and Aaradhana sang for her father. SivaKarthikeyan comes back as a lyricist again with Gaandha Kannazhagi song, and it sounds good. Media trolled him asking, "Who was in your mind while writing this song?" for which he quipped.
Soori in Namma Veettu Pillai movie plays his comedy track well, and the duo comedy is not we are going to see for the first time. Several films, the duo's comedy has been witnessed, and this made the public laugh out their heart forgetting their personal life. The expectation set in every leg of the movie; the fans are awaiting the release date.