Nayanthara's Netrikann: After China and Japan, India Remakes Blind Korean Movie in Tamil
Anusha Sathish (Author)
Published Date :

Sep 18, 2019 14:39 IST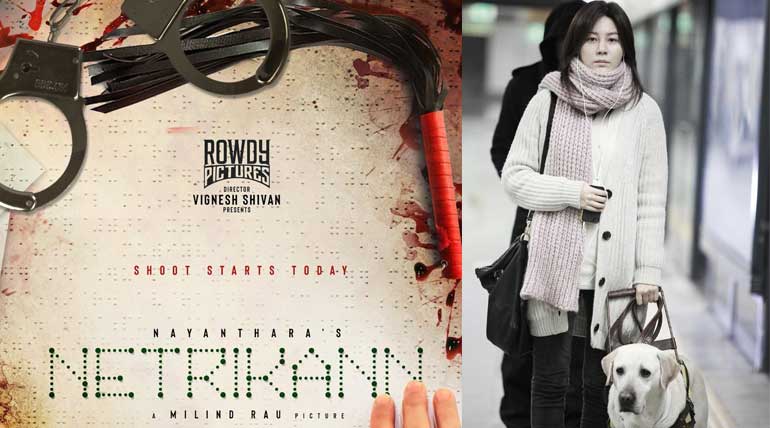 Is Nayanthara's Netrikann a Korean remake? A day before yesterday, "Netrikann" was the social media buzz with Nayathara's images. It is her 65th film, and Vignesh Shivan is producing the movie for the first time. "Netrikann" is late director Balachander's title. The Netrikann team has gone and visited Balachander's daughter Pushpa Kandhasamy and get the title rights. Title costs them just a local whirlwind, but it is not the case with the storyline. Copying and reproducing other language movies is not happening for the first time.
Kamal Haasan's movies usually relates to some of the Hollywood movies though not the exact replica. Gone are the sans digital days even copying a movie will take some time for the audience to find out. Digital era poses some threats and people are becoming sharp. Meme creation, trolling has become a profession and no more an amateur activity. Hence the internet savvy found the movie to be a replica of Korean movie on getting the hint that Nayanthara is blind and along with her a dog also plays a lead character.
Sources gathered that there was a Korean movie with the same storyline which was out in 2011 and the name of the film is "Blind". A person was a victim of two different cases, and the police department was garnering proof for the same. An alumnus from National Police university named Su-ha appeared as a witness for the cases. She lost her eyesight in one of the accidents, but she was able to stand as a witness with the help of her other organs sensed the incident. Another person named Ke-Siyab also came as a witness for the same case. It was a car accident case, and the sequence of events told by both were poles apart.
This confused the cops and finally how the truth was unleashed was the crux of the movie. Not sure whether the team got rights to remake the movie from Korea. We must wait and see. The same movie was remade in China in 2015, and Japan also remakes the movie and will release in a couple of days to highlight.